Corporate gifting can be a powerful tool for building and maintaining relationships with clients, partners, and employees. However, it can also be a tricky undertaking, especially when it comes to choosing the right gifts (such as macaron gift boxes 😉) and ensuring they align with your company's goals and values. 
No one wants to end up losing money, so let us help you make your gifting choices and thoughts much simpler and easy to make with this blog.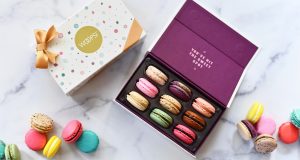 Budget
Corporate gifting can be expensive, always bear this in mind. If you're planning to give gifts to a large number of people, having a clear knowledge of your budget is crucial. This will help you give something that can bring back all the benefits of corporate gifting while not going out of your way and spending way more than what you're capable of. 
Set a budget, stick to it (while still choosing gifts wisely… insert some macaron gift boxes here), and always make sure you're getting the most value for your money. The latter means that you shouldn't take corporate gifting lightly! Take your time looking for different options that stick to your company's identity and that can still be thoughtful and—if possible—customized. 
If you want to know more about the importance of customization, read our Nothing Says Thoughtful Like Personalization blog.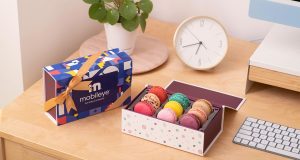 Timing
Timing is way more important than you think. Sending a gift at the wrong time can completely blow away all your planning and previous efforts. Some examples of "wrong timing" are busy periods or in the midst of a crisis, avoid these moments as you may end up seeming insensitive.
On the contrary, choose a time when your clients and employees are more likely to be receptive, such as during a holiday, on their birthdays, after a major accomplishment, during onboarding, and so on.
But beware! Giving gifts during busy gifting periods—such as the holiday season—may make you go unnoticed… unless you give something premium, luxurious, and stunning that will stand out from the rest! In case you're wondering, yes, gifting macarons will always make you and your company stay top of mind.


The Gift
This is one—if not the most—important aspect to take into consideration when choosing to give gifts strategically. Deciding what type of gift will be most appreciated by your target audience means that you should take some time to get to know them a little bit better (always bear in mind the word personalization!). 
It's also super important to take into account values and branding. Gifting should be aligned with the company's values, mission, and overall image. Also, consider what message the gift will convey about your business and the relationship you have with your recipient.
Some questions you can ask yourself when deciding which gift to give:
Who are they for?

What message do you want to get across?

Is this a new or old client/employee?

What's the occasion?

Have A Plan!
It's essential to have a plan in place for tracking and measuring the success of your corporate gifting program. Keeping track of who you've given gifts to, when, and what the response was can help you identify which types of gifts are most effective and which recipients are most likely to respond positively.
This info can then be used to refine and improve your gifting strategy over time.

To Wrap It Up…
Starting a strategic corporate gifting program requires careful consideration of your target audience, budget, timing, type of gift, company values, and branding, plus a plan to track and measure success. 
By taking the time to plan and execute your gifting strategy effectively, you can build and maintain relationships with clients, partners, and employees, and ultimately drive business success. 
Want to start to make your corporate gifting as victorious as it can? Get in touch with us or visit your nearest Woops! location if you want to have a 1-1 chat with one of our reps. 
We'll always be here to help you craft memorable, premium, distinctive, and personalized (if you wish) macaron gift boxes that will leave all your recipients wide-eyed and thinking of you!