It's completely normal to have questions when it comes to corporate gifting and corporate gift ideas. Many companies have found themselves wondering if gifting is worth it, if it will benefit them as much as they want to, if they will truly engage customers and employees with them, what to give to stay top of mind, and so much more.
Well, we're here to tell you that every single question is valid! It's from them that we learn and decide which paths to take to achieve what we have in mind. 
And what better way to blow away those doubts than by asking the experts? Not to brag, but we know a thing or two about corporate gifting and we'd love to help you out.
Now, let's get the 5 most frequently asked questions about corporate gifting rolling.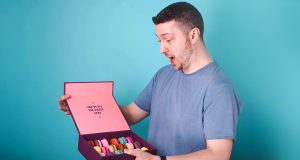 "Why Do I Need To Send Corporate Gifts?"
Anyone can send a branded mug, pen, or t-shirt… don't be a part of that group of anyones. Take some good time to brainstorm and decide which types of gifts answer best to your company's essence and what message you want to get across.
Wondering why? Because with truly stunning, personal, memorable, and premium gifts you'll be able to:
Create closer relationships between employees/customers and your brand.

Boost morale and promote a stronger work ethic.

Evoke feelings of reciprocity and trust between your company and the employee/customer.

Get referrals.

Lets your recipients know they're valued and seen among their peers.

Build & strengthen your relationships.

Stand out from your competition.

Create a positive brand reputation.

Improve your working environment.

Make someone's day!
Simply put—a good gifting strategy will make your employees or clients more loyal and more motivated to stay with you. It's good for the soul and it's good for your business!
If you want to know more about the huge value of corporate gifting, read our 5 Reasons Why Corporate Gifting is Important blog.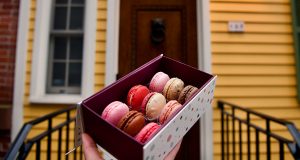 "Can't I Be In Charge Of & Ship My Gifts Myself?"
Well, you surely can. But before you decide to do everything yourself, there are several things to take into consideration. There are high-stress seasons in any company, whether it be the holidays, summer, end-of-year, and so on, and taking in the huge responsibilities and logistics that good corporate gifting requires might be a little too much to handle. 
You might fall into the "whatever gift comes to mind" stage and that's something we don't recommend. Those types of gifts will mean an expense that won't benefit you or your company at all—and they'll most probably end up shoved in a drawer or closet. This is the reason why companies like Woops! exist! We're here to make your life so much easier by taking all of the gifting stress off you back during whichever season you need us to.
We'll offer you stunning corporate gift ideas and a top-notch white-glove service (meaning we take care of everything for you). Whether it's customization, shipping, storage, design, printing, and so on, let us be your allies when it comes to gifting!
If you're interested in working with us and want to know a little bit more about our services, get in touch with us & check out our Woops!: Best Corporate Gifting Solution blog.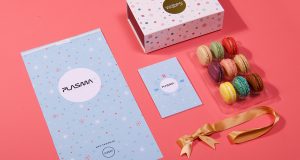 "What Gifts Should I Give?"
Here are some questions you can ask yourself when it comes to corporate gift ideas:
Who are they for?

What message do you want to get across?

What's your budget?

Is this a new or old client/employee?

What's the occasion?
And a bunch more! What you should always keep in mind is that the people receiving these gifts want to feel special and appreciated by you and your company. This means that you should choose premium, stunning, and personal gifts (this doesn't mean they have to be expensive).
If you ask us, an amazing way to express your gratitude is through beautiful and impressive French macaron gift boxes! Or go above and beyond with macaron stacks as well. 
Whether for the holidays or year-round, choose your favorite options from our pre-made boxes or make them your own. The cherry on top? A beautiful custom & personal greeting card.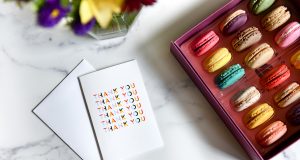 "Won't It Be Too Complicated To Get My Recipient's Addresses & Personal Details?"
It might take some dedication and time to get everyone's info but we believe it's well worth it. There's a huge difference between receiving a thoughtful and beautiful gift in your hands opposed to a gift card in an email. Besides our incredible French macaron gift boxes and other corporate gift ideas, we have awesome e-gift cards as well.
If you have a long list of recipients but don't have all of their addresses, you can send them an e-gift card and they can fill in all the personal information by themselves! Woops! E-gift cards can be used in-store in all of our locations and also online at bywoops.com. With these cards, anyone can order online the best French macarons and get them shipped anywhere inside the U.S. territory.
If you want to know more about this gifting option, take a look at our A Great Corporate Gifting Option: Woops! E-Gift Cards.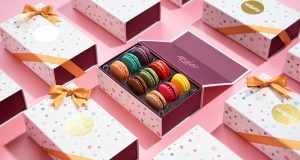 We truly hope these questions helped you on your corporate gifting journey! We promise there are tons of good outcomes from letting your recipients know you value and appreciate them. In case you're still wondering if corporate gifts are worth it, simply ask yourself: who doesn't LOVE gifts? We all do! 
Time to start thinking about how you want to stay top of mind through gifts—get in touch with us and let's make everything as gorgeous and as memorable as it can be.