As the colors of autumn paint the world around us, it's the perfect time to show appreciation and gratitude to those who make working easier and brighter. Fall brings along a series of fun occasions that you can use as an excuse to show gratitude to your amazing team or to pamper your clients a little more. How? Through client and employee appreciation gifts, of course!
Whether you're looking to delight your team, customers, or partners, we've gathered a range of fall gift basket ideas to warm hearts and make lasting impressions.
If you're doubting the importance of corporate gifting, check out our 5 Reasons Why Corporate Gifting Is Important blog. Now let's explore some creative ways to embrace the fall spirit and show your gratitude.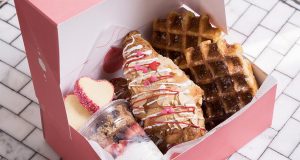 1. September 1: National Baking Day
Whip up something special on National Baking Day by surprising your team and clients with a delightful assortment of baked goodies. A gift basket or box filled with freshly baked cookies, macarons, and brownies will surely make them feel valued and cherished. 
The comforting aroma of sweet treats will not only satisfy everyone's taste buds but also create a warm and inviting atmosphere at work while making you stay top of mind. 
Other gift ideas:
A nice baking set

A basket with cookies, waffles, and brownie mixes

Cooking essentials such as aprons and cooking gloves.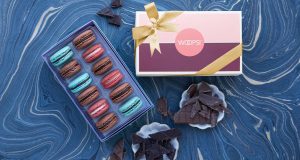 2. September 8: Star Trek Day
Engage your team's sense of adventure and imagination on Star Trek Day by gifting them an out-of-this-world experience. A space-themed gift, such as custom macaron boxes with a space-themed design, alien-inspired chocolates, or "space exploration" snacks will take them on a journey to the stars. 
Celebrate this day with a gift that boldly goes where no gift has gone before—it'll definitely scream "We make a Spock-tacular team!".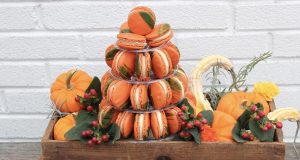 3. September 23: Snack Day
Go above and beyond by treating your employees to a delectable Snack Day celebration! From savory to sweet, invite your team to a delicious breakfast, brunch, or lunch with a big table full of a curated assortment of gourmet snacks—this will surely keep their energy levels high and their taste buds satisfied.
Here's what we'd include:
Premium nuts

Artisanal popcorn

Chocolate chip cookies

Chips

Assorted fruit

Small chocolate squares

Baked goodies

Bagged candies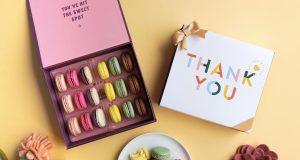 4. September 26: Human Resources Professional Day 
Celebrate the under-loved heroes of the office! On Human Resources Professional Day, acknowledge the hard work and dedication of your HR team with a personalized gift. 
Include items that cater to their needs and interests, such as gourmet coffee, wellness treatments, and indulgent macarons. A thoughtful gesture on this day will show them that their efforts in supporting the company and its employees are truly appreciated.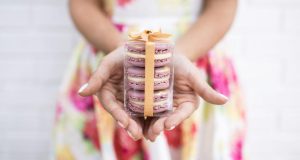 Needing Gifts That Are Good for All These Occasions?
Fall is cozy, chilly, and the perfect season to express gratitude and appreciation for those who contribute to your organization's success. 
Choose fall gift basket ideas, tiny cute favor boxes, or big and stunning macaron boxes for employee appreciation gifts! You will not only brighten their day but also foster a positive and inclusive work culture through carefully thought of gifts—yes, thinking thoroughly about what to give is always super important. 
Personalized gifts that align with their interests and the spirit of the occasion are the ones that truly make a lasting impact, so put some time and effort into crafting something that everyone will truly love (and skip the printed swags please!).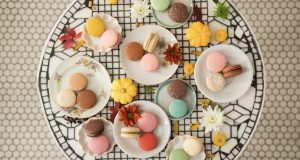 If you want to give the perfect macaron boxes and gifts to your team and customers, get in touch with us or look for your nearest Woops! store. We'll make your corporate journey easy, stress-free, unforgettable, and even fun.