If you're thinking of celebrating one of the corporate world's most important day—yes, Employee Appreciation Day is very important—and are in need of some gifting inspiration, you're in the ideal place! We love everything gifting and love to give all our customers the best inspiration for all occasions.
After all, life is all about making the most of every moment, even the ones at the workplace. If you've ever been around here, you know that there are a ton of benefits to corporate gifting, so celebrating, showing gratitude, and giving some much-deserved love to the people who get the work done is always a big YES! 
Ready to make the most of Employee Appreciation Day with the best gift ideas (besides macaron gift boxes)? We are, so let's do it. 
But First…
What makes an employee gift truly successful? Choosing something that feels personal, thoughtful, premium, and unique and that's also a nice experience. 
Before choosing your gifts, take some time to find out what your recipients enjoy and appreciate, and if you can add a personalized touch to each it'd be fantastic! And by "personalized" we don't mean a bunch of different gifts, we mean a nice handwritten card or gifting macarons with each person's favorite flavors. 😉
Who Doesn't Love A Good Wine?
Never go wrong with some nice drinks! We came across a premium wine distributor that sources wine from top winemaking regions. Premium? Check. Fun? Check. Beautiful? Check. Personalized? If you add a unique card with a thoughtful message – then check!
Now get your hands on some of In Good Taste's wine collections and find out which flavors your employees prefer: will it be crisp white wine or full-bodied reds? Be sure that this gift will transport them through wineries all around the world from the comfort of their home!
Porter Mugs & Insulated Bottles
If there's one thing we all do, is drink water, coffee, or tea. This only means that you'll never go wrong with W&P's insulated bottles and porter mugs that are gorgeous, premium, and super high-quality. 
Their design-forward and eco-conscious products—besides being functional—can also be customized! In case you're wondering, yes, everyone will love this gift. Time to eat & drink better (tiny phrase credits: W&P 😌).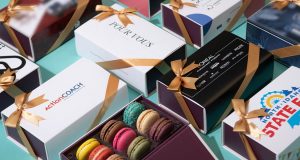 Woops! French Macaron Boxes
Of course. If you ask us, the BEST, Employee Appreciation Day gift will always be some of our stunning French macaron gift boxes or stacks.
We'll always make your team go 'WOW' with our extra premium, beautiful, and thoughtful gift boxes that never fail to successfully convey your gratitude, esteem, and appreciation. We have numerous pre-made options that you can choose from or make your boxes your own by customizing them!
The best part of the story is that you can leave all the hard work in our hands AKA we can take the whole load of corporate gifting off of you. Just give us your recipients' addresses—or the place where you want your gifts to be delivered—and we'll do the rest for you.
A little bit more about us:
1,000+ satisfied customers.

50+ million French macarons sold.

8+ years of experience in designing corporate gifts.

We offer white-glove service.

We create spectacular customized gifts in a matter of days.

We're obsessed with gorgeous packaging.
Get in touch with us or visit your nearest Woops! location if you'd like to have a face-to-face chat with one of our gifting representatives, we'll always be waiting for you!
Cozy Up The Office
The perfect office temperature debate has been going on for ages now. The BBC dedicated an entire article talking about what's the best office temperature and concluded that 56% of employees are always cold against 42% who claim to be hot. 
March 3 is still cold in a ton of places on Earth (we know we are in our New York bakeries) so why not cozy up the workplace for the chillier ones on this Employee Appreciation Day with some blankets? 
Make them personal by customizing them with a photo of their fam, pet (because who wouldn't love a cute fluffy face on a fluffy blanket), or your logo, put them in nice packaging, and add a personalized card to make the whole experience much better.
For those who aren't cold, choose some of our other options which are lovely as well. 😉
Working Remotely?
Your employees spend a lot of time at home, which means that gifting home office upgrades will always be a big yes! 
Let your budget help you on this one, but some top-of-the-mind options ergonomic chairs, fast chargers, custom earbuds, something nice and decorative for their desk, a high-quality computer case, cleaning supplies for their office equipment, and the list goes on.
You can do a tiny survey to have a better idea of what they might need/want more and work on getting them that stuff that will make working at home much easier and better.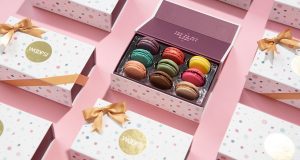 If you're a corporate gifting newbie and want to know more about all the benefits, do's and don'ts, and extra advice to make it the best it can be, check out our 4 Frequently Asked Questions About Corporate Gifting blog and let us help you out. 
Last but not least, we hope you leave this blog feeling extra inspired to make your employees feel as important as they are! Remember that it's easier to love your workplace when it loves you back. 😉