What are company swags?
Company swags are promotional gifts or products that businesses typically use to promote their brand and create recognition amongst customers, prospective clients, and employees.
What most companies look for with these types of products is to build brand recognition, engagement, get repeat business, and a boost in sales among other advantages. Some of the most common company swags that businesses use are corporate gift boxes full of savory or sweet foods (or both), mugs, notebooks, pens, USB drives, t-shirts, caps, and water bottles.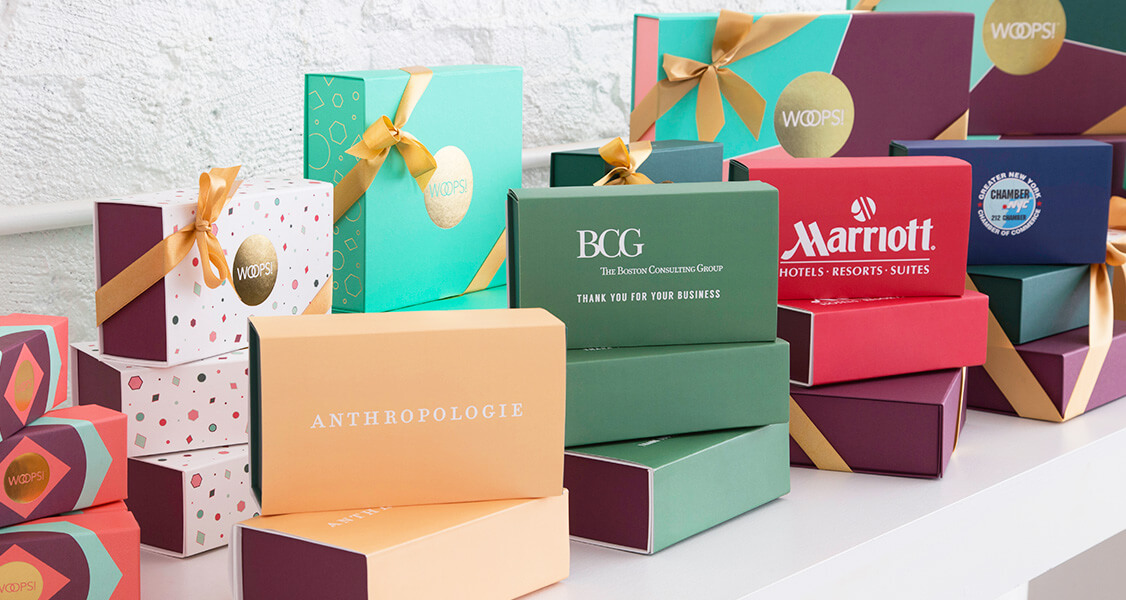 What's Their Main Purpose?
Easy peasy, to improve the company's visibility and people's perception of it! Of course, the outcome is determined by the branded product and the recipients they're given to.
When you give company swags to customers you expect repeat business, good referrals, relationship improvements, and loyalty. When you give these types of corporate gifts to employees, you're probably looking to better their engagement, motivate them, keep them happy with their workplace, and boost their satisfaction.
Apart from keeping your team and clients happy, company swags can also:
Build brand recognition.

Strengthen your recipient's relationship with your company.

Make you stand out from the crowd.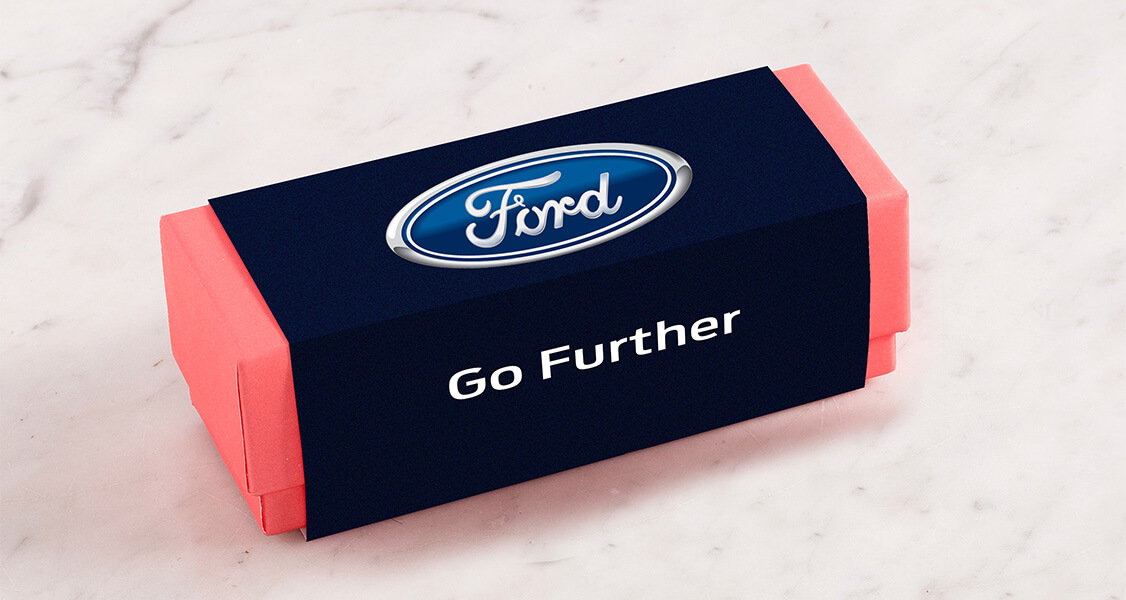 How can you make them really great?
By carefully choosing items according to what's going on at the moment between you and your recipients and by making them memorable, thoughtful, and truly valuable to every person that receives them.
Giving whatever comes to mind—like ordinary mugs or pens with your logo—won't make you stand out from the competition. And this is important: always remember that how it looks outside is just as important as what's inside! So don't spare money or interest in the packaging.
Let's say you want to build brand awareness:
Choose something that vibrates with your brand! If you're all about sweetness and like to make people feel really good, a French macaron gift box is the way to go. You should also put your logo where it's visible and doesn't have a chance to get lost in the sight.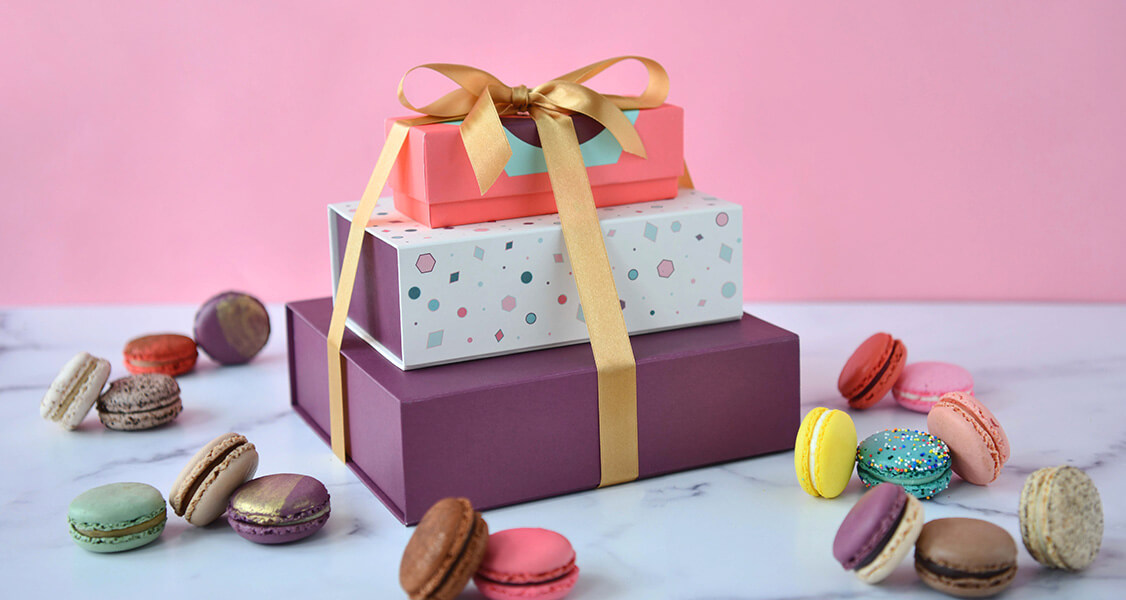 Want to keep your customers loyal?
Go personal! The main message you want to transmit is "thank you for being here!" so make your swags appreciative: find out what your customers really like… is it savory or sweet food? Perhaps a good wine with a customized greeting card? A dazzling French macaron stack? Determine what's your budget* and decide what are your corporate gifting possibilities depending on the importance of the client.
*Read our Luxury Corporate Gift Ideas: When & Why Use Them blog to get some extra help when deciding what gifts to give to very special customers.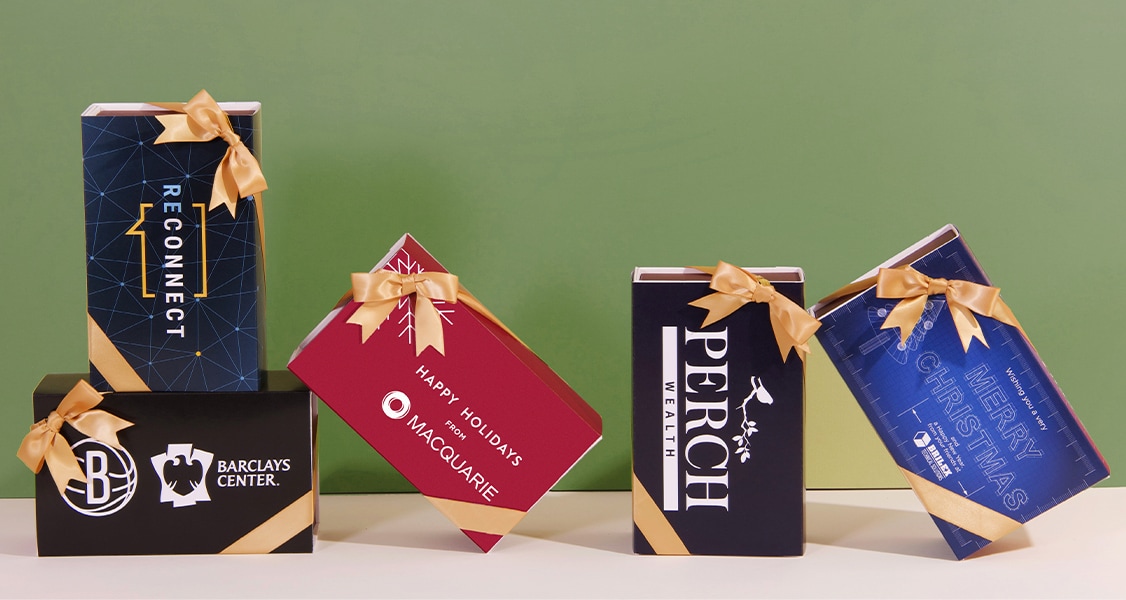 Got prospective clients?
Stay present! Offer things that set your company apart from others, this is your first corporate gifting impression so make it count. High quality is a must when you want a client to choose you above all others, so make sure to make this company swag item stunning, memorable, premium, and unique.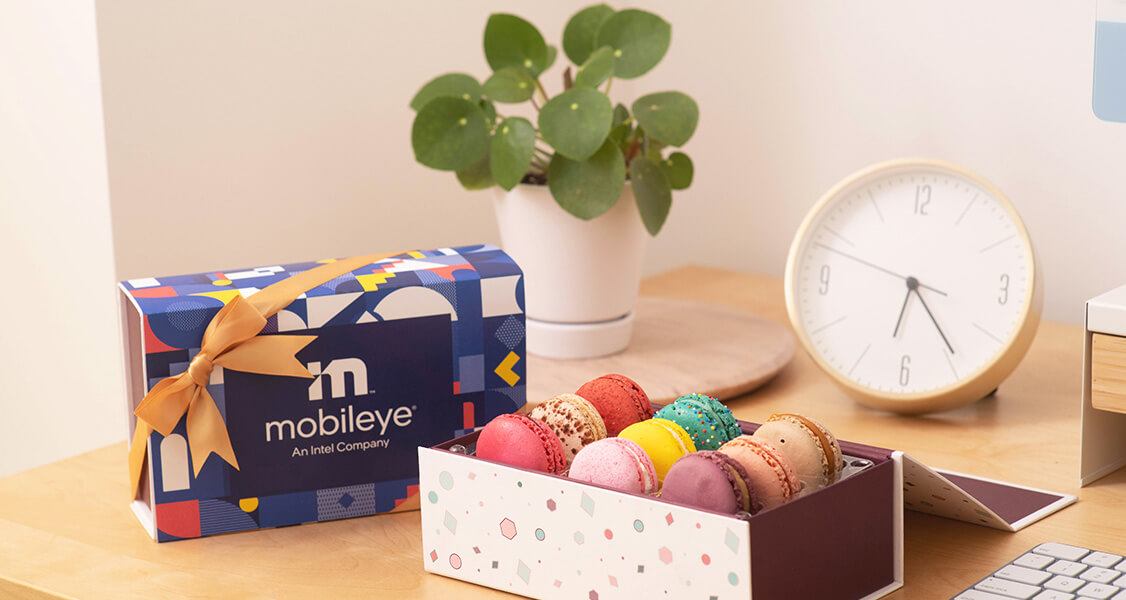 Some Awesome Company Swag Ideas
French macaron gift boxes
Our spectacular French macaron boxes can be customized according to your wants, needs, and wishes. Whatever you have in mind, we can make it a reality!
You can design your boxes yourself or we can do it for you. Fill them up with your—or your client's & employee's—favorite macaron flavors and dazzle them with some very mind-blowingly delicious sweets that will be delivered in gorgeous packaging. We also have authentic Argentinian alfajores that are spectacular and have been loved by all!
We want to make your corporate gifting journey much more pleasant, which is why we'll provide you with a simplified ordering process, great industry-leading account service support, awesome shipping service, and more.
And be sure that we'll always make your brand looks its best with beautiful custom-made corporate gifts.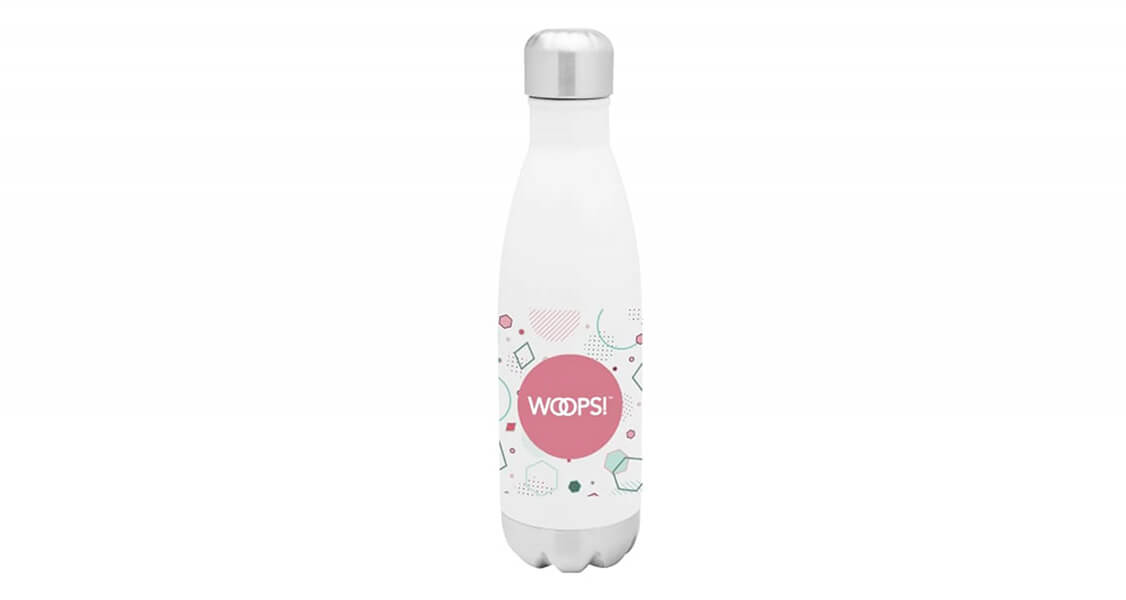 Water bottles…
Are always a yes. They never go wrong and are super useful! Be sure to put your logo front and center and choose a pretty and useful bottle so it doesn't get stashed away in a drawer.
Tip: select a water bottle that keeps its contents at their original temperature for prolonged periods of time, those are the best ones. 😉
Portable Coffee Cups
Because who doesn't love coffee? Make your customers and employees think of you every single morning while filling up their first cup of coffee of the day… you'll remind them of you and your company on a daily basis with this.
Tip: Just like Xiaomi, if you can make your portable coffee cups stay true to your brand identity you'll gain extra points with your recipients.
If you want to go the luxurious way…
Give portable earphones! They're loved and used by (almost) everyone. We really can't imagine someone not loving a good ol' pair of earphones. If you want to include your logo somewhere, we recommend customizing the cases they come in.
And there are many more corporate gift & company swag items that can give you a ton of benefits! Find which ones resonate more with your company and get ready to truly dazzle all your employees and customers.
If you want to delight all your recipients with the best French macarons outside of Paris, contact us! Our gifting concierges will always provide you with A+ service and will take care of everything for you while you go back to what you do best.