No worries, we're here to help you figure it all out. First of all, we must remember that all delivery and shipping carriers are at full capacity during the holiday season.
Whether you're planning to send luxury gifts, gifts that stand above all others—but are still within your budget (like macarons!)—something small but cute, or whatever you have in mind, you must remember that they all have one thing in common—they must be delivered on time.
If you want everything to be in the hands of your employees, clients, prospective customers, and all your recipients, it's always best to plan ahead of time and send your gifts a little bit earlier than everyone else. This will also help you stay top of mind as your gifts won't be a part of the holiday gifting clutter. 😉
So… when should you send them? Read on & find out.
P.S. We'll also give you some incredible customer & employee gift ideas you'll love.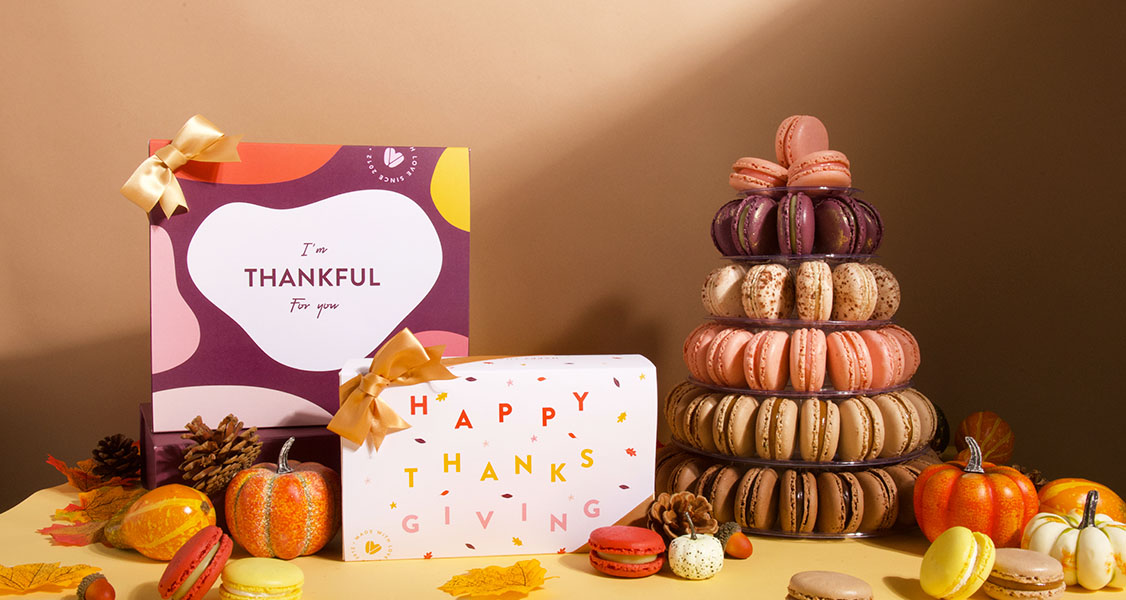 Thanksgiving
Turkey Day isn't a typical gifting holiday… but who wants to be like all others? This is one of the country's most celebrated holidays and an incredible opportunity to shine not only with your employees & customers but with their families as well.
This holiday is also great to be present at your employees' & customers' dinner table! Their loved ones will be dazzled by your beautiful gift that will deliciously complement the night & that can be shared amongst everyone.
So this year don't let anyone go home empty-handed! Make this day memorable and show your gratitude with spectacularly thoughtful gifts.
Find the best client & employee gift ideas in our Thanksgiving Collection of macaron boxes! You can also design them according to your wants and needs.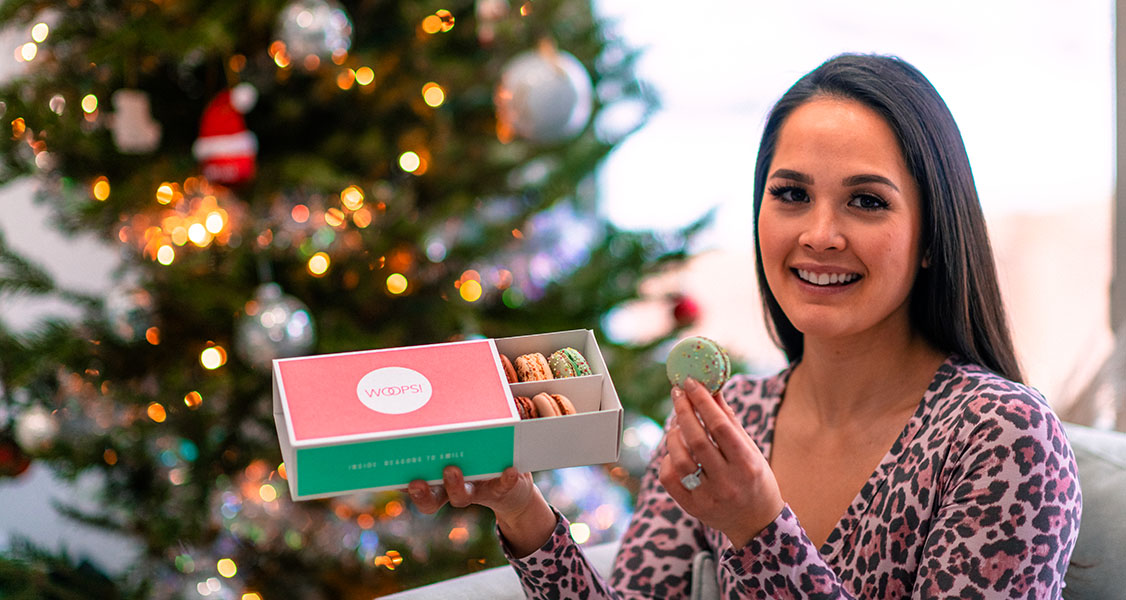 Early December
Got other holidays on your mind or didn't have time to send gifts on Thanksgiving? Early December is your solution.
Having your gifts delivered in the first 2 weeks of December is ideal as they'll arrive before all others and will be in your recipient's hands before they finish up everything for the Christmas holidays.
If your gifts will be sent throughout the country, always remember to check with your gifting company, shipping carrier, or whoever's taking care of everything for you so nothing arrives damaged (in case your gifts are perishable) or late.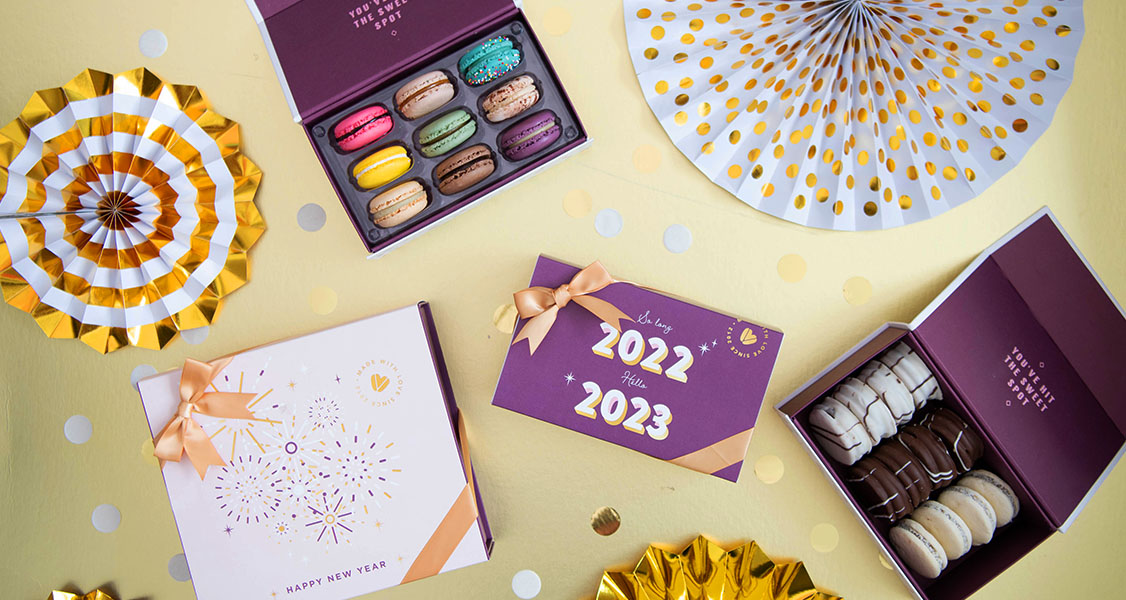 New Years
Another great occasion to stay top of mind & avoid the gifting clutter! Who wouldn't love a delicious & beautiful something to say goodbye to the old year?  They're as good as holiday gifts, but more unique & memorable since they're not that common.
It's best to send them on the very first days of the New Year as people usually receive lots of presents in late December and yours may get lost amongst the others & may not have the impact you want it to have.
When everyone's returning to work from the holidays, they're either feeling refreshed after resting or a little sluggish after having to go back, either way, it's a win-win for you!
Your gift will be an unexpected surprise and will make you stand out. We always tell our customers to always show some gratitude and appreciation at the beginning of a new year.
Make the most of this festive season & get beautiful customer and employee gift ideas with our Holiday Catalog (it's linked below 😉).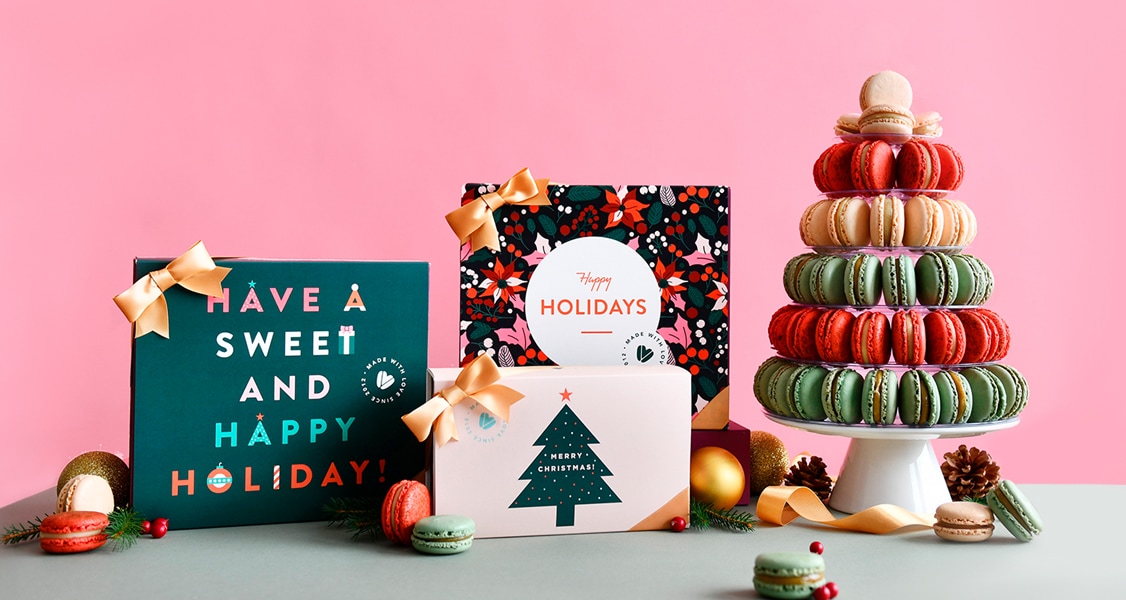 We can help you out!
And take all the gifting load off your back. Remember that gifting is all about building caring relationships, it shouldn't feel like a hard task… ever. We have a beautiful catalog full of gorgeous holiday options that you can choose from!
This is why we want to make it all easier for you from the very beginning:
We'll help you determine what product answers your wishes & budget.

If you want customized gifts, we'll work with you to create the perfect sleeve & greeting card designs!

Lots of recipients? No worries. We have a simple process where you can enter all of them into our system so your gifts can be shipped with no mistakes.

Yes, we'll handle ALL the logistics: customization, packaging, delivery dates, shipping, and all else.

That's all. 🙂
We want you to enjoy this jolly season with your amazing employees & clients, so let us take all the boring logistics & work out of your hands. Get in touch with us and we'll make your gifting wishes come true!