The New Year means new opportunities, expectations, ambitions, and renewed relationships. This holiday celebration is also perfect for wishing colleagues, employees, customers, and prospective customers how glad you are for having them by your side.
One thing that's important to keep in mind is that New Year's isn't a typical gifting holiday. If you decide to send gifts on this specific timeframe and not during the Christmas holiday celebrations, you'll most likely surprise your recipients and stay top of mind! But as we always say, the timing isn't everything, giving the right gifts that will truly appeal to everyone's senses and likes is even more important.
If you've been left wondering "what am I supposed to gift that will truly impress my customers and employees?" wonder no more! Check out this gift guide, choose your favorites, and start planning right now… remember that gifting has tons of benefits and will improve your relationships with your recipients!
January Is All About Resolutions…
Including fitness ones! We've all heard the phrase "I'll start working out next year" when the last days of the year are passing by. Make it easier for your recipients to truly stick to their fitness resolutions by giving them health vouchers, a top-notch gym membership, a 1-year exclusive fitness app subscription, or some workout equipment so they can move at home.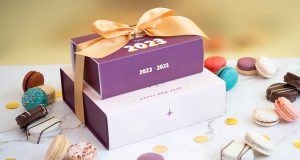 New Year's Macaron Gift Boxes
Our exclusive, luxurious, and premium New Year's French macaron gift boxes will always be an amazing gifting option if you want to stand above your competition and make your recipients extra happy! Is there anything better than showing gratitude and appreciation through delightful sweets? We don't think so!
Our boxes—besides having extremely delicious and high-end macarons—come packaged in beautiful and eye-catching sleeves that will be loved by anyone. If you want to go above and beyond, go for a spectacular stack and you'll be the star of the season.
Self Pamper Kit
Kicking off a new year in a relaxed state of mind sounds amazing always. Help your recipients wrap up the year with some 'me' time, the perfect way to start 2023 on a high note.
From massages to spa time and luxury bathroom kits, give your customers and employees something that will help them bring their very best selves to this new chapter that's about to begin… by your side. 😉
Electronics & Gadgets!
It's almost 2023 and everyone is into the latest Apple, Samsung, Xiaomi, and so on products. When it comes to these types of gifts it's super important to check out your budget in order to decide what's within your possibilities.
If you want to go the luxurious way, some AirPods or even an iPad will dazzle your most important employees and customers! If you want to give something cool but that's more affordable and budget-friendly, a wireless charger, wireless earbuds, or AirTag will work wonders as well.
There are many options to choose from if you don't have the largest budget, so there's no need to worry.
It Doesn't Have to Be a Thing…
It can be time–off. 🤗 The practice of giving your employees a few days off at the end of the year is very common and known as complementary. This extra holiday will be just as appreciated as a tangible gift since it means extra time to relax, unwind, and spend time with loved ones… the perfect gift to begin a new year recharged and ready for what's coming. This is also a great way to build trust, loyalty, and fellowship with your team. 
Besides, it's the best gift option if you're on a very tight budget. 😌💜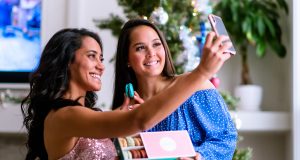 An Extra Piece of Advice
No employee or customer wants a ton of stuff with your branded logo.

If you want to gift something sweet or sour that they can eat and share during New Year's Eve, don't go for something common like chocolates and dry fruit

(French macaron gift boxes will always be dazzling, by the way!).

Don't waste money on something unusable. Giving a book to someone who doesn't like to read is a waste of money—take some time to find out what's something that your recipients will like.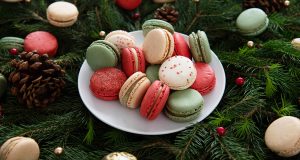 Remember that we can take the gifting load off your back and do everything for you! Our incredible team will help you stand out and impress everyone with the most gorgeous New Year's French macaron gift boxes your team and clients will lay their hands and eyes on. Simply get in touch with us and let's make it happen!