If there's one thing we LOVE, it's offering our amazing Woopsters new macaron flavors that they will love!
We'd love for this to happen much more, but the whole process of coming up with new flavors isn't easy and takes time. We're also very passionate about this because we always want to offer our customers high-quality macarons and products—being able to do so is one of the things that makes us most proud. 
No time to waste, get to meet them, taste them, and love them as much as we do.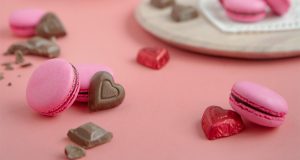 Milk Chocolate
Smooth, tantalizing, rich, and exciting are some of the words that describe this spectacular, chocolaty flavor.
Our luscious Milk Chocolate macaron flavor is made with premium Belgian milk chocolate ganache that's deliciously enclosed between two exquisite and bright pink shells. 
This yummy treat is the perfect delicacy for all chocolate lovers on a fun night out, as a scrumptious sweet treat at home to spoil yourself after a busy day at work, or to surprise your best pals with something that will 100% be loved by everyone!
Some of our favorite boxes that include this flavor are the Macaron Basket Box of 5 and the Eggs-Tra Delicious Box of 3 (both from our limited edition Easter Collection!).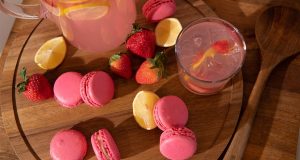 Strawberry Lemonade
This is one of our freshest goodies around! If you're a fruit lover and want to tease your tastebuds with the most delicious love affair between lemons and strawberries, then you're in the right place. 
Get your macaron boxes now and get delighted with the one and only Strawberry Lemonade French macaron! You can Build Your Own Box of Macarons full of only your favorite macaron flavors or in our Spring Has Sprung! Macaron Box.
Wondering how to make the most of this goodie? Include it in all types of get-togethers, add a warm & colorful summer touch to a cold season, or make the most of a hot one by adding a refreshing and citrusy flavor that goes deliciously with all types of yummy cocktails.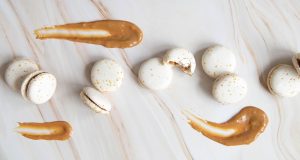 Dulce de Leche
Feel like you're in Argentina with this mind-blowing goodie! It's the true depiction of what authentic South American dulce de leche tastes like: incredibly smooth and creamy. Made with premium milk to give it its amazingly rich texture, pamper yourself and your loved ones with this delicious macaron flavor that will fill your tastebuds with ooey-gooey and rich sensations.
You can get our Dulce de Leche French macarons in the Authentically Yummy Stack (that also includes Argentinian alfajores!) and in a Build Your Own Pyramid where you'll be able to select your own macaron flavors.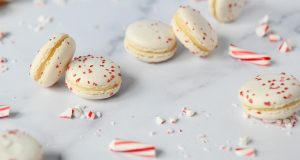 Peppermint 
Our most festive sweet, yet awesome and delicious for all types of seasons and occasions. Let us introduce you to our Peppermint macaron flavor (in case you haven't been fortunate enough to have a bite of it 😉)!
This goodie has a mouthwateringly subtle peppermint flavor mixed in our delicious chocolate ganache and is enclosed by gorgeous snow-white shells that are adorned with cute red sprinkles. 
This macaron is perfect to add a luxuriously jolly touch to all your celebrations, it doesn't matter if it's mid-July! Looking to wow your guests during the festivities and on any occasion? You got it with these beauties.
Get this treat in our Tasting Boxes that come full of all our classic and seasonal flavors.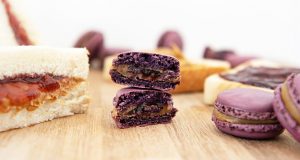 Peanut Butter & Jelly
We got a little teary-eyed when we first tried this macaron flavor… so many good memories! This gorgeous little treat is made with creamy, melt-in-your-mouth peanut butter and sweet & tangy strawberry jelly that's deliciously squished between two beautiful dark purple shells. 
Yes, we love to reminisce and get inspired by our favorite childhood flavors to make the most mouthwatering macarons. Get this goodie in our New Crescent Moon Box from our limited edition Ramadan Collection or include it in a Kit of Macaron Favor Boxes.
Ready to give them a try? Well then, get them today with same-day delivery or pickup from your nearest Woops! store or shop online! We ship nationwide.