We love to craft the perfect holiday gifts for you, but we also LOVE to be a part of your company's events. Whether it's your business' holiday celebration or a special Christmas meeting with a new client, we're here to help you make any important occasion as unforgettable as it can be. 
All our customers are our #1 priority and the reason why our team works tirelessly and in a detailed manner. Our main goal is to ensure everything is beautiful, perfect, and what our clients want it to be, so rest assured when it comes to leaving everything in our hands.
Just so you know, we offer a top-notch white-glove service which means we take care of absolutely everything for you. You'll also have an account manager that will guide you and keep you updated every step of the way.
Now, onto the exciting part, what can we offer you?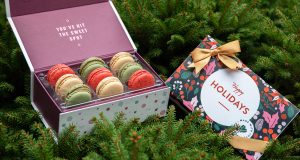 Premium French Macaron & Alfajores Boxes
Our ready-to-gift or personalized holiday gifts will always be winners. If you're looking for pre-made Christmas macaron boxes or for something that's all around you and your company (meaning customized), we've got you covered.
We're true believers that everything first enters through the eyes, which is why we put tons of effort into crafting stunning & eye-catching boxes and sleeves and making our French macarons as colorful and as beautiful as they can be. 
No matter what type of box you need, let our top-notch graphic designers create something that will leave everyone wanting more.
Any of our boxes will gorgeously complement your events and reunions, plus they're the perfect way to thank everyone for assisting and for being by your side throughout the year.
If you're interested in customizing your gifts, check out our Nothing Says Thoughtful Like Personalization blog.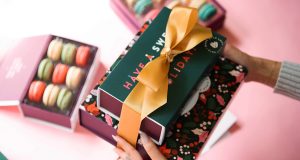 Go Above And Beyond
The holidays are a season when everyone wants to stay top of mind, and we're experts in making this a reality. How? With Christmas macaron stacks! Boost your boxes by stacking them and fill any room with tons of beauty, colors, and delicious flavors.
We have several stack sizes you can choose from: from small stacks to premium ones, be sure that all your clients and employees will be truly dazzled once they set their eyes upon one of these. 
You can customize them however you want by choosing your favorite macaron or alfajores flavors and complementing them with personalized or pre-made sleeves.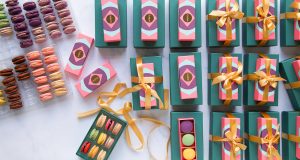 Premium, Unique, Thoughtful, and Small
These are 4 words that perfectly describe our spectacular favor boxes. These beautiful and cute boxes will add a delightful touch to your tables and are ideal as a small welcome gift or as something that everyone can take home with them.
Our Christmas macaron favor boxes can also be customized! Choose boxes of up to 5 French macarons and your fave flavors, they also include a ribbon. We promise no one will leave these goodies behind 'cause they're eye-catchers wherever they are. 
Explore our flavor guide here and choose your favorites.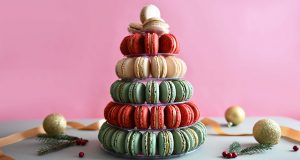 Holly Jolly!
Expect this reaction if you decide to include one of our ultimate stunners in your next holiday celebration: our spectacular macaron pyramids! Wherever they are, no matter the time, the occasion, or the people, our French macaron pyramids will always (always!) leave people wide-eyed and wide-mouthed.
Our pyramids come in different sizes and you can choose your favorite flavors to make up a truly stunning piece everyone will be left talking about. Plus, they're so easy to assemble!
Also keep in mind that, if you get our pyramids from one of our Woops! locations via pickup or same-day delivery we can assemble it for you! But usually for an extra cost.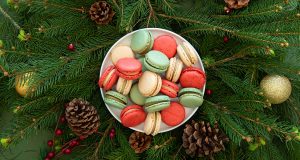 If you want to get some extra inspiration, check out our Holiday Catalog. Now it's time to step into the Woops! French macarons & holiday corporate gifting train! Our white-glove service, account managers, and gifting experts will take the load of holiday celebrations off your shoulders! Contact us and get ready to impress all your customers, prospecting customers, and employees.