The year has flown by and before we know it, Woops!… Turkey Day will be here. Time to start planning how you'll dazzle your loved ones, who's going to prepare what, and—most importantly—which sweets (such as Thanksgiving macarons 😉) will be a part of your delicious dessert table. They're the cherry on top, so this year make sure that the usual pie isn't the only thing sealing the night.
Yes, pumpkin pies are a part of the tradition, and sometimes going out of our traditional ways might be a tad difficult, but there's nothing wrong with wanting to try new things! Every dessert table benefits from a little variety and that's what we're here to help you with: to sweeten things up.
From cheesecakes to brownies, dessert bars, and Thanksgiving boxes of macarons (of course), be sure that you'll find something that's just right for you in this blog. Onto the sweetness, read on and get delighted!
Sweet Potato Cobbler
Time to start new traditions. Sweet potatoes aren't only eaten with savory foods, they're also a great base for many types of desserts.
Our personal favorite for Thanksgiving is the potato cobbler (you know we love cobblers around here)! Boiling these delicious & sweet potatoes in an aromatic mixture of water, vanilla scent, sugar, and spices such as cinnamon will make them acquire spectacular flavors that everyone will be dazzled with.
Check out this delicious recipe here & surprise yourself and your loved ones.
Pecan Pie Bars
They're as delicious as pie but so much more fun to eat! With these delicious Pecan Pie Bars, you won't have to worry about chilling the pie dough or making it from zero, and still, it challenges the usual mouthwatering pecan pie.
Get your hands on a simple press-in crust and easy-to-get ingredients such as brown sugar, honey, and heavy cream, and get ready to delight your loved ones with the most delicious bars they've ever had.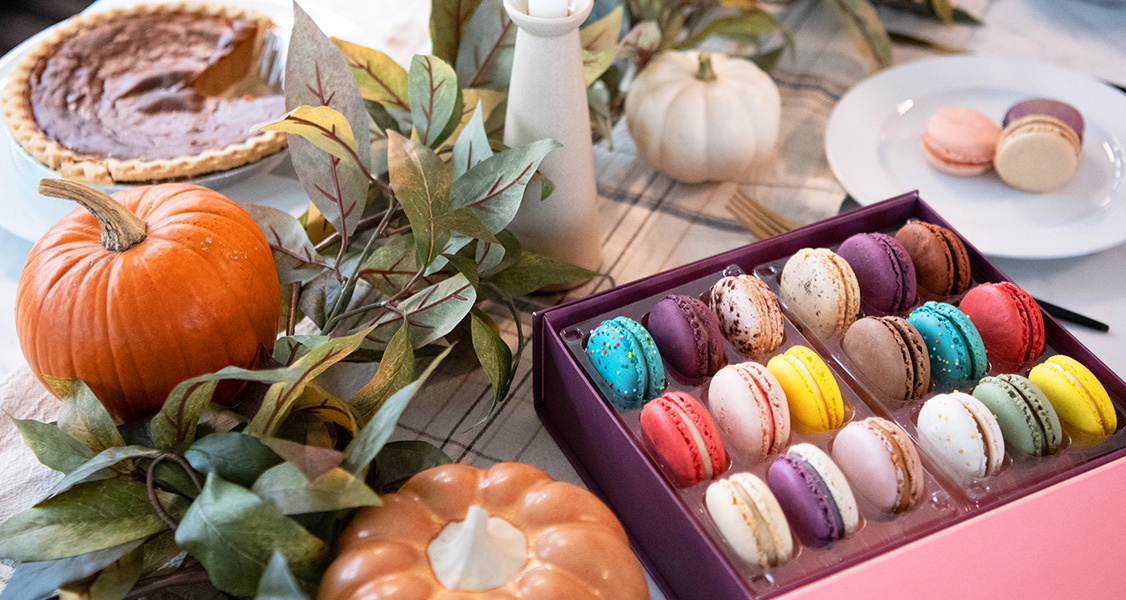 French Macarons
Duh. 😉 You know that a box of macarons is what makes our day so much sweeter, more colorful, and all-around brighter! If you put some Thanksgiving macarons on your dessert table we promise that every single person in the room will gasp in delight (that's how sure we are of their awesomeness!).
Lucky for you, we have a gorgeous collection of Thanksgiving macaron boxes that will give every other dessert a run for its money. Composed of 3 gorgeous & delicious macaron boxes, 1 spectacular alfajores box, and a stunning French macaron pyramid, get from our collection everything that your sweet Turkey Day dreams are made of!
Pumpkin Pie Brownies
Another delicious twist to pies! Chocolate and pumpkin is a very underrated combination that you should take advantage of. Pumpkin pie brownies (that scream "fall season" everywhere) are also very, very easy to make which is a huge bonus for all those who have their hands full this Thanksgiving.
You can also use your favorite brownie recipe and adhere to the rest of the recipe.
Apple Crumble
Who doesn't love apples sprinkled with some cinnamon and sugar? We all do. Apple crumbles are amazing to make for a big group since they don't take as much as apple pies—you don't have to make a whole crust. 😍 Top it off with some vanilla ice cream and you'll be the talk of the night!
This very easy recipe takes no more than 15 minutes to prepare and 1 hour to be 100% ready.
Pumpkin Cheesecake Squares
Cheesecakes are always a yes! What's best about them is that you can make so many variations that it's almost impossible to get tired of eating them. This time around let's add more fall & Thanksgiving flavors to one of our favorite desserts: pumpkin spice and cinnamon!
Your pumpkin cheesecake squares will have everyone's attention plus more than one "how is it that you made them!?" question.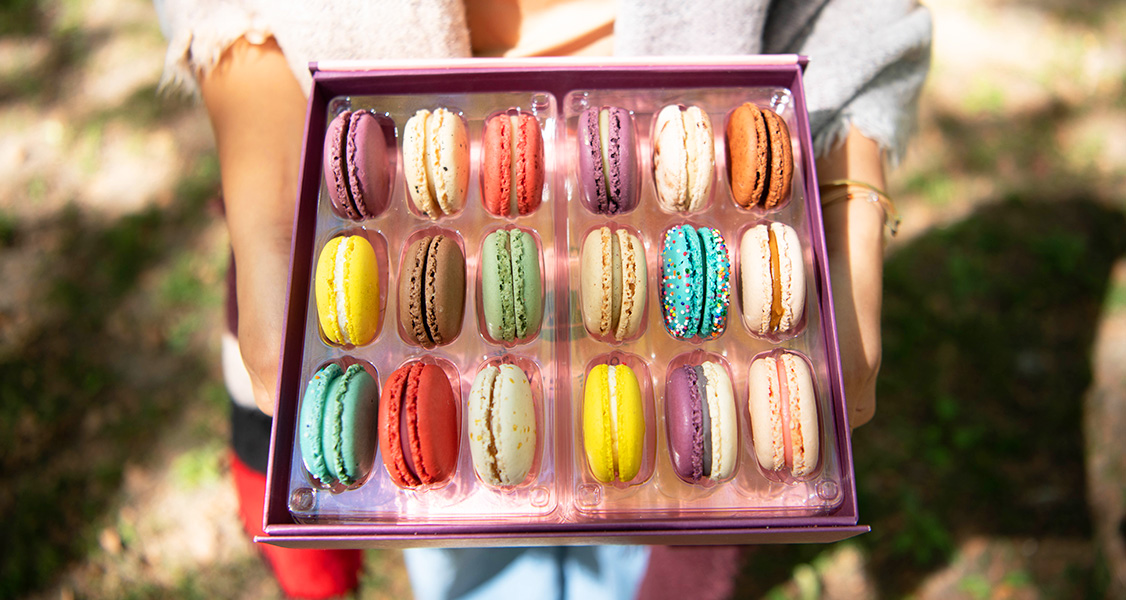 Time to delight your family and loved ones with some of the best Thanksgiving desserts they've ever seen! Macaron boxes, pumpkin-flavored sweets, and all cinnamon spice and everything nice goodies will be more than welcome at your spectacular Turkey Day dinner.