Let's admit it, one of the best parts about Thanksgiving is the leftovers. Whether you have a super big family & friends feast, or a small holiday celebration of two, we're always left with more food than we know what to do with.
If you're a part of our leftover-lovers team, don't just reheat and reheat everything until you get tired of it… let's twist things around and make entirely new recipes with what we were left with.
From the sweetest new ideas (Thanksgiving macarons, we're thinking of you), to mouthwatering savory recipes, check out this delicious blog that will spark your cooking creativity and leave you coming up with more ideas.
Crunchwraps Are Always A Yes
Who doesn't love crunchiness in their food? We're sure we all do! The typical sandwich is something we all turn to, but this time around let's make it extra exciting and much more delicious with the perfect Thanksgiving crunchwrap.
Don't worry if you don't have all the ingredients, just use what you have (not the Thanksgiving macarons tho). Our advice is to make this wrap as crunchy as you can, kids and adults alike will love it!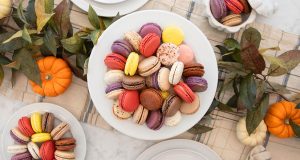 Got Leftover Thanksgiving Macarons?
No worries at all. Even though this might not be an entirely new recipe, there are a ton of things you can do with these delicious sweets from your holiday celebrations. 
French macarons are loved by everyone (we're yet to meet the first person who doesn't), and they pair perfectly with a wide variety of drinks. Grab some pretty tiers or plates and fill'em up with these colorful sweets, make any of the Thanksgiving leftover recipes listed here, and make it all much better with your favorite drinks.
If you didn't see some of your loved ones on Thanksgiving you can invite them over, we guarantee they'll love it!
We Love Potatoes In All Its Shapes
The typical Thanksgiving dinner includes mashed potatoes and we all know they taste so much better when they're recently, well, mashed. 
If you don't want to eat your potatoes the same way as last night, here's what we consider the BEST alternative: Fried Mashed Potato Balls!
This tasty recipe will turn your kitchen mashed potatoes into mouthwatering and savory fried bites that everyone will love. What's best is that they're super quick and easy to make. Sprinkle a little bit of salt and parsley on top for that extra delish touch and you'll be all set.
If You're Looking For Something Lighter
If you're all about fitness or simply want something a little bit lighter after your holiday celebration, here's your solution: Thanksgiving Leftover Salad!
Turn your bread into croutons, and your cranberry sauce will become a yummy vinaigrette, add in some of that turkey, and any veggie left around shall be included as well. Salads are all about being creative, we've included one of our favorite recipes here, but feel free to put in anything and everything you've got lying around.
Turkey Casserole
After Thanksgiving, we're usually left with more turkey than we know what to do with. Yeah, some wraps and sandwiches might help, but none of these two can hold up too much turkey.
Enter Turkey Casserole! The perfect way to put all that turkey in one place. Casseroles are a great way to use up all the turkey and any leftover veggies as well. The real magic of this recipe relies on the buttery crispy crumb, make sure that it's crunchily delicious and everything else will fall into place on its own.
So Much Pumpkin Pie!
You might have eaten sooo much pumpkin pie on Thanksgiving night that you don't even want to see its shadow the next day. Well then, let's make Pumpkin Pie S'mores! 
Grab your favorite sweet cookies, chocolate, and marshmallows and put in some of that delicious pie and you can thank us later. 😉 Apart from this, making s'mores is an activity that the kids love which means some extra cozy family time beside the fire.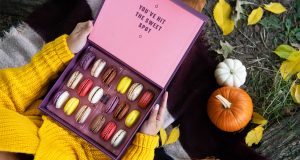 We rounded up here some of our favorite leftover recipes, but there's so much more you can do. Get creative, grab your favorite holiday celebration foods and make the most of what you have in your kitchen. 
One last tip: order your spectacular Thanksgiving macaron boxes now! Don't wait 'til we're sold out… remember we're full of delicious and beautiful options that will leave all your loved ones wide-eyed and wanting more.