Valentine's Day is associated with couples, chocolates, French macarons (our favorites), and flowers, but many don't realize what a great opportunity this is to show appreciation at the workplace.
This holiday celebrates one of the greatest and most important feelings: love! So why not pamper and spoil the people who contribute to the growth of your company? Just to take into consideration, a shocking 85% of employees don't feel truly engaged, valued, or happy at work.
This is another reason why taking big and important holidays—such as Valentine's Day—is a great chance to recognize, engage, and motivate your team in a fun and appropriate way. 
Want to get some inspiration and delight everyone on the year's official LOVE day? Check this out.
Host an Office Breakfast? Yes!
It's never a bad idea to host a delicious breakfast for your employees, especially one where the main theme is love. Kick off the Valentine's Day celebrations with a sweet and savory breakfast! Forget about the usual bagels or instant coffee and go the extra mile to make them feel very special on this day. 
Here's a tiny list of our breakfast/brunch essentials:
DIY granola, yogurt, and fruit bar

French macarons (from

our Valentine's Day Collection

, of course)

Fresh fruit

Mimosas & fresh-pressed juices

Cheese boards

Café style coffee & teas

Breakfast sandwiches & wraps

Waffle & pancake bar
And there are a ton of other options! Decide your budget, look for your nearest catering company, and make your Valentine's Day breakfast as premium & as delicious as it can be.
Tip: don't forget about the vegans & vegetarians! Include some hearty options for them as well. 😉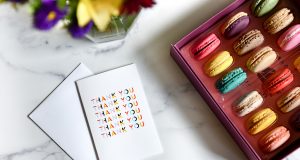 Send Valentine's Day Cards
Never underestimate the importance of an appreciation card. Gifts are important (of course), but some encouraging words to let everyone know how cherished & special they are goes a long way.
Cards are a quick, easy, and affordable way to show your gratitude, but take into consideration the huge role that "personalization" plays here. Make sure not to just print the same card for everyone, but to also take the time to write a unique message to each person. Got lots of employees? Work with the team leaders who know their crew members best.
There are tons of places and stores where you can get pre-made cards or—if you want to really stand out—make them your own! This shows that you didn't just choose whatever you thought was pretty, but took the time to design something that was truly distinctive.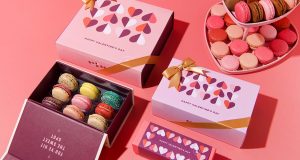 Everyone Loves Gifts
And that includes your team! Once again,

what's most important when choosing gifts is finding the right thing that can create the impact that your wish to have and do that within your budget.

Our favorite gifts will

always

be

our luxurious Valentine's Day French macaron gift boxes

. If you decide to go for any of our boxes, let us make it a little bit easier for you by rounding up here some of our favorites:

Build Your Own Full Heart Box

,

All Kinds of Love Box of 5 French macarons

,

Valentine's Day Tasting Box

, and our stunning

Spread The Love Stack

!

Other Valentine's Day gift ideas are

If you need more inspo, check out our Best Valentine's Day Gift Ideas blog! It may include some couple-y gift ideas, but we're sure you'll be able to find something that suits your company.
Office-Friendly Activities & Games
Some social time during working hours shows that what's most important for you and your company is your team. 
Whether you can juggle in some extended break time or finish up early for the day to go for after-office drinks, motivate your entire team to take a very much-needed break and join you on some Valentine's Day-themed activities!
We'd go for some bingo, French macarons, and wine tasting, cookie or cupcake decorating, a cooking class (if possible!), trivia, happy hour, and the list goes on.
Whatever you can do to insert some loving activities and games into the workday will surely be appreciated by everyone.
Also, don't be afraid to be silly! It's a Valentine's Day celebration, don't take yourself too seriously.
Valentine's Day Selfie Station
So cool! We get excited just thinking about it and we're sure your team will love it as well. 
Make or buy some heart-shaped cardboard cutouts, dangle some paper hearts from the ceiling, order Valentine's Day-themed funny accessories, and get some polaroid cameras to get the fun started.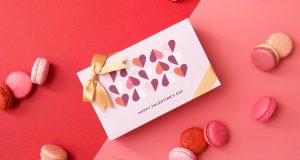 We hope this blog helped you out at least a little with your Valentine's Day gift & celebration ideas! And, if you weren't planning on celebrating love at the office, we hope that it cheered you up into making this day extra special for your team.
Last but not least, get in touch with us if you want to give out the most stunning Valentine's Day gifts. Our team of experts will always be here to help you with all your gifting needs.