Now that the holiday craziness has dimmed a little, it's time to give way to the loveliest season and holiday of the year: Valentine's Day! If you love to give just because gifts to your significant other, then we're sure you delight yourself in pampering and spoiling him or her in the best way possible… and that's what we're here to help you with.
Whether you're celebrating with your better half, your BFF, kids, that super cool neighbor or coworker, or just yourself, Valentine's Day is the perfect time to show those special people how much you love and appreciate them.
From romantic to very cheesy, practical, or sentimental, these gift ideas span a wide variety of recipients so that you can show a lot of love this season!
Kissing Mugs
So cheesy, but so beautiful! We think this gift is perfect for newlyweds or for a couple that just moved in together. These kissing mugs can be bought in two different colors (his and her favorite) and will add a lovey-dovey touch to your home. 
The cherry on top? These $65-only beauties will make your better half so happy for a very good price.
Sipping coffee and cocoa together just got better. 😉
100 Dates Scratch-Off Poster
Is your Valentine one of those people who never knows what to do or what to eat? Then this is what you didn't know you needed! This scratch-off poster will come in very handy on those days when you want to be a little bit more spontaneous with your couple.
Whether romantic (light up some candles & take a bubble bath together time) or more unconventional (paintball? Yas!), reveal a date night or day activity that you both will love.
Another great idea is to get this poster and start scratching from February 1, the best way to create an exquisite buildup to Valentine's Day! Fill those dates with "just because" gifts and your love will definitely end up loving you even more.

French Macarons & Alfajores
Valentine's Day is our favorite season so we (of course) must join the love celebration with a memorable, gorgeous, and all-around stunning collection of macaron boxes and stacks!
From the Cupid's Arrow Box that's full of Cookies & Cream, Nutella, Rose, and Strawberry Lemonade macarons, the You Mac Me Crazy Stack, and our newest dazzling additions, the Sweet Amour Box of 3 and the All Kinds of Love Box of 5 macarons, get ready to delight all the loves of your life with the most premium & romantic sweets around.
Our new boxes of 3 and 5 French macarons come in packs of 3 which means that you'll be able to delight 3 hearts with just one order! They're also perfect for sweetening a special someone's day with a tiny delicious treat. Don't want to let Valentine's pass by your favorite coworkers without showing some love? Here's your solution.
If you want to leave your better half wide-eyed and wide-mouthed with delight, one of our precious stacks is what you're looking for.
To make it all better, you can get our entire Valentine's Day Collection at all our locations or with nationwide shipping. 
Psst! Make it all better starting now with some just-because gifts that will prep your darling for the fast-approaching love season.
A Fan of Everything Beauty?
If your Valentine is all about beauty and self-care, a FabFitFun subscription is what you need to get him or her! 
And what's best is that they'll do all the hard work for you: when every season starts, they'll craft a specially curated box full of beauty products, accessories, housewares, top fitness finds, and skincare products everyone's loving! This is awesome as well: all products will be tailored to your better half's preferences.
For The Nature Lovers
A Birth Month Flower Grow Kit from Uncommon Goods! This top-notch kit features your love's birth month seeds, a glass bottle to grow them in, a soil-less growing medium, instructions, and some info about what the flower symbolizes. 
Once the garden has finished its blooming season the bottle can be washed and used as a vase! This is the perfect stuff for anyone who loves gardens, plants, and flowers, who loves its gifts a tiny bit more sentimental, and who isn't into "stuff".
We also think that this is an ideal gift for lovers and friends alike, so don't be afraid to give this to someone you aren't romantically involved with.
Cool Date Night Ideas Throughout The Entire Year!
We all love date nights and spending quality time with our favorite person, but sometimes ideas run out and we're left thinking "what can we do besides watch Netflix and eat our favorite food?"… well, here's the solution. 
A DateBox Club subscription isn't only an excellent—and spontaneously different—gift, but also one that transcends time since you can get subscribed for 3, 6, 12, or whatever amount of time you want!
Get ready to receive your box any given day, insert some just-because gifts (boxes with strawberry macarons? Why not!), and delight your special someone with this Valentine's gift that can last for much longer than a day.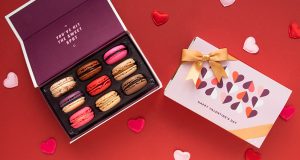 Ready to make the most of the loveliest season of the year? Delight your boo, loved ones, and yourself (who said Valentine's isn't for some self-love as well?), and enjoy the celebration of that one emotion that makes us all feel much happier, brighter, joyful, glowy, and all-around bubbly.