Halloween is fast approaching, and it's time to start planning your spine-tingling celebrations. While traditional Halloween candy like candy corn and chocolate bars have their place, why not take your Halloween festivities to the next level this year? 
Create a show-stopping candy buffet full of the best Halloween candy that ranges from a variety of sweet treats to classic confections and spooky specialties. In this blog, we'll explore different types of candy that will delight ghouls and goblins of all ages, including some irresistibly spookily premium Woops! Halloween macarons.
Classic Halloween Candies
No Halloween candy buffet is complete without the classics! These are the candies that have been haunting trick-or-treat bags for generations and you shouldn't take them out of your witch's pot.
Candy Corn: Love it or loathe it, candy corn is an iconic Halloween treat—in the US, at least. Its vibrant tri-color design always adds a pop of color to your candy spread.
Chocolate Bars: Snickers, Kit Kats, 3 Musketeers, Twix, and Milky Ways are as classic as they're loved. Their miniature versions are perfect for Halloween… and will always be. <3
Gummy Worms: These creepy-crawly candies are a hit with kids and always add a playful touch to your candy display. There are tons of delicious options, our favorites are the ones that have sugar on top… but they're all amazing really.
Spooky Themed Candy
This year embrace the Halloween spirit fully by looking—or creating!— candies with a terrorific twist. Here's what we'd go for:
Eyeball Gumballs: Gumballs with eerie, edible "eyeballs" inside will add a dash of horror to your candy display.
Skeleton Bones: Look for white, bone-shaped candies (they're often made of sweet tarts) to bring a touch of macabre fun to your Halloween sweet buffet.
Witch's Brew: First and foremost, try to look for something that resembles a witch's pot and then include colorful candies in different shapes and sizes so they resemble potion ingredients.
International Delights
Why not make this Halloween extra delicious with international candies? Spike everyone's curiosity with sweets that are mouth-watering and even a tad weird… just perfect for this occasion!
Mexican Sugar Skulls: These intricately decorated skulls, known as "calaveras," are a staple of the Day of the Dead celebration. They're sweet, delicious, and will add an extra colorful—but still spooky—touch to the year's scariest night. 
Japanese Kit Kats: Kit Kats are a safe trick-or-treating option if you don't to be left with tons of candy at home since they're loved by everyone! What's best is that you can play around with this candy since there are a ton of Kit Kat flavors from Japan, like matcha green tea, wasabi, nuts and cranberry, azuki (AKA red beans), or sake.
Cocadas: So coconutty, spectacularly tropical, and Colombian! They're made with freshly grated coconut and sugar and they're most usually white (because of the coconut milk) or dark brown (because of the panela). You can also find them in bright colors like pink, green, or bright yellow. If you've never tried them, you have no idea what you're missing out on so get your hands on some ASAP.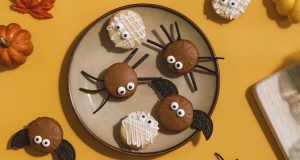 Gourmet Treats 
Elevate your candy buffet with gourmet confections! If there's one thing we're experts at, is making all occasions extra premium and memorable with spectacular sweets that are able to dazzle and impress anyone who comes across them. If you know us at least a little, you'll know that our first option will always be…
Woops! French Macarons: If you're looking for a unique way to celebrate Halloween, consider handing out Halloween macarons to trick-or-treaters. These treats can be individually wrapped and are perfect for those who prefer something other than traditional candy. You may also order them in cute favor boxes of two macarons or order a gorgeous macaron pyramid that everyone can grab from. 
Truffles: Indulge in the velvety richness of chocolate truffles! If there's one thing we're sure of, is that any kid that comes knocking is a chocolate lover. What's fun about truffles is that you can select from a wide variety of flavors, from classic dark chocolate to exotic fruit infusions.
Toffee: We love handcrafted toffee! It's so deliciously buttery, crunchy, and nutty… nothing kids and adults alike wouldn't love. 
Caramel Apples: Miniature caramel apples or caramel apple pops provide a deliciously cozy taste of fall that anyone would love.
Allergy-Friendly Options
Don't forget about guests with dietary restrictions! Nowadays allergies are as common as breathing, so make sure to include allergy-friendly treats that anyone can enjoy—sadly, nutty sweets would be a big n-o.  
Vegan Gummies: Gelatin-free gummy candies taste just as delicious as the normal ones! They're also perfect for vegans and those with gelatin allergies.
Nut-Free Chocolates: Chocolate treats made in nut-free facilities provide a safe option for those with nut allergies, so make sure to read those tags and include them in your allergy-friendly pot of sweet magic. 
Fruit Leathers: So fun, sweet, and delicious. These naturally sweet snacks are gluten-free, dairy-free, and vegan, making them suitable for a wide range of dietary needs!
This season, treat your guests to the best Halloween candy that goes beyond the ordinary! By including a variety of candies, both classic and unique, themed and international, gourmet and allergy-friendly, you'll create a memorable experience that will deliciously capture the ghostly spirit of the season.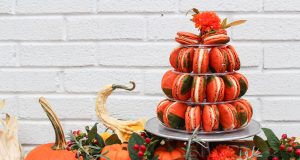 Whether you're hosting a haunted house party or delighting trick-or-treaters at your doorstep, a diverse selection of candies will ensure that everyone can enjoy a spooktacularly sweet Halloween. Don't forget to surprise and delight with the addition of Woops! French macarons and make this Halloween one to remember!