Our French macarons will always be our favorite dessert for the holiday season… and any season of the year, if we're honest. Still, there are a ton of other delicious options that we love as well! 
If you want to complement your fruity, sweet, classic, or chocolate macarons during the jolly season, here are our favorite picks for making every merry moment as memorable as it can be.
Gingerbread House
It's a bit of a cliché, but it's just too lovely to not include it in our list. Building a gingerbread house from scratch might sound complicated and difficult, but it doesn't have to be! 
If you want to spend some time with loved ones creating every piece of your house, check out these assembly tips so you can all get extra creative. If, on the other hand, you prefer to not get your hands too dirty, these gingerbread house kits are our favorites.
Bourbon Balls
Sweet but still boozy and very fun! Bourbon balls are usually made with nuts such as pecans, some wafer cookies, cocoa or chocolate, and bourbon (of course). Still, there are a ton of ways to make them your own by playing with the ingredients.
Time to get the party started with these yummy treats with hints of liquor! Your friends will surely love them. 😉
P.S. Here are some of our favorite bourbons so you can make them as good as they can be.
Cheesecake… With a Holiday Twist
We've mentioned it before, we LOVE cheesecake! It's a deliciously creamy dessert that can be twisted and modified almost endlessly, which makes it super convenient for all kinds of seasons and celebrations.
This time around, we want to present you with our favorite cheesecake for the holiday season: the Chocolate Peppermint Cheesecake! It's sweet, but not thaaat sweet, chocolaty (who wouldn't love it?), and with hints of refreshing mint to balance it out.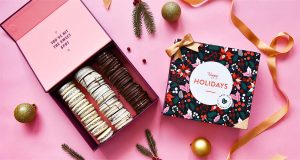 Alfajores
In case you haven't heard what alfajores are, here's the tea: alfajores are a delicious and typically South American dessert that's mostly consumed in Argentina, a country at the southern tip of the continent. They're made with buttery melt-in-your-mouth cookies and creamy delicious dulce de leche sandwiched between them. 
We're pretty demanding with alfajores since we want them to be as authentic as possible… thankfully, our alfajores are as truly Argentinian as they can be! And what's best is that we have a spectacular box full of them: the Jolly Holidays Alfajores Box.
We also have the Season's Greetings Stack with two boxes full of French macarons and one box filled with alfajores.
Nothing better than getting to experience new foreign sweets during the year's merriest season.
Gluten-Free Christmas Pudding 
We know we're not all gluten lovers here (our French macarons are also gluten-free, btw), so why not include some gluten-free options on the dessert table as well?
With this delicious pudding recipe, you'll be able to take a break from the heavier dessert options while still enjoying a very delicious sweet. This gluten-free Christmas pudding comes full of dried nuts and fruits, we also recommend you top it with a creamy brandy sauce to balance the sweetness and give it that extra moist touch that's oh-so-delicious.
 In case you're wondering, yes, everyone will love it!
Tres Leches Cake
This moist and spongy cake is very popular in Latin American countries, and it will be popular at your home as well! Made with sweetened condensed, whole, and evaporated milk (hence the name), this yummy dessert will have everyone wondering where you found out about it. It usually comes in big trays, so it's perfect for a big crowd. 
This cake isn't the easiest to make, but if you're up to it check out this Tres Leches recipe that will have everyone wanting a second piece—put some whipped cream frosting on top with splashes of red so it looks extra holiday-ish. You may also look for the best tres leches cake near you and you'll surely find several options.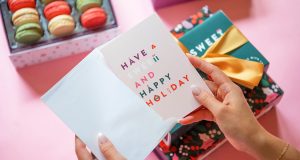 These are our favorite desserts for the holidays besides French macarons, Woopster. Now, get ready to celebrate and delight your loved ones with the most delectable treats on the sweetest and jolliest season of the year… we sure are!