One of the best ways to show appreciation to your team and clients is through thoughtful, premium, and memorable end-of-year corporate gifts. We know how hard it is to come up with something that will stand above the competition… but that's what we're here to help you with. 
If you're having a swarm of "what gifts will I give to my employees & customers?" thoughts, don't worry! We're experts at making holiday gifting easy for everyone, including you of course. Whether you're looking for one or a thousand customized or pre-made gifts, let us help you out with what we do best: create the most stunning corporate gifts! Especially during the most wonderful time of the year.
So if you need some inspiration, you're in the right place. Cozy up and make yourself comfortable because you're about to be hit with the most beautiful holiday macaron boxes you've ever seen. 
Check out all of our incredible options in our Holiday Catalog!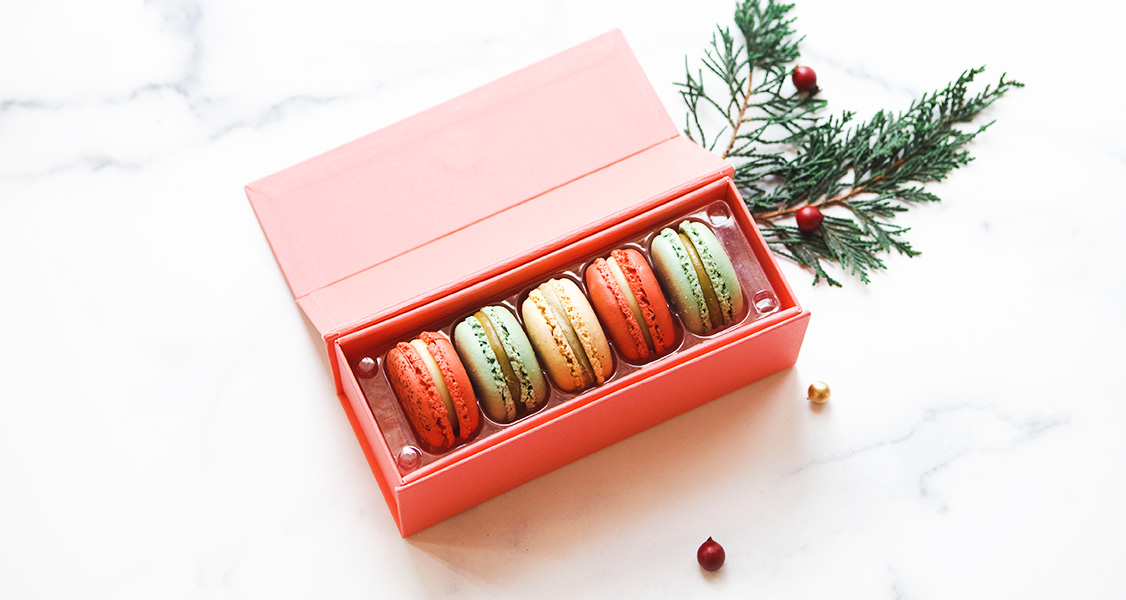 Before Talking About Our Boxes…
Let's talk a little bit about our macaron flavors! Thanks to our premium, handpicked, and world-class ingredients we've maintained our reputation of having the best macarons outside of Paris. You can always expect the best from our high-quality French Valrhona chocolate for our ganaches, our pure pistachio paste, authentic Italian Nutella, and more.
*If you decide to get customized boxes, you may ​​choose your own macaron flavors and your packaging as well.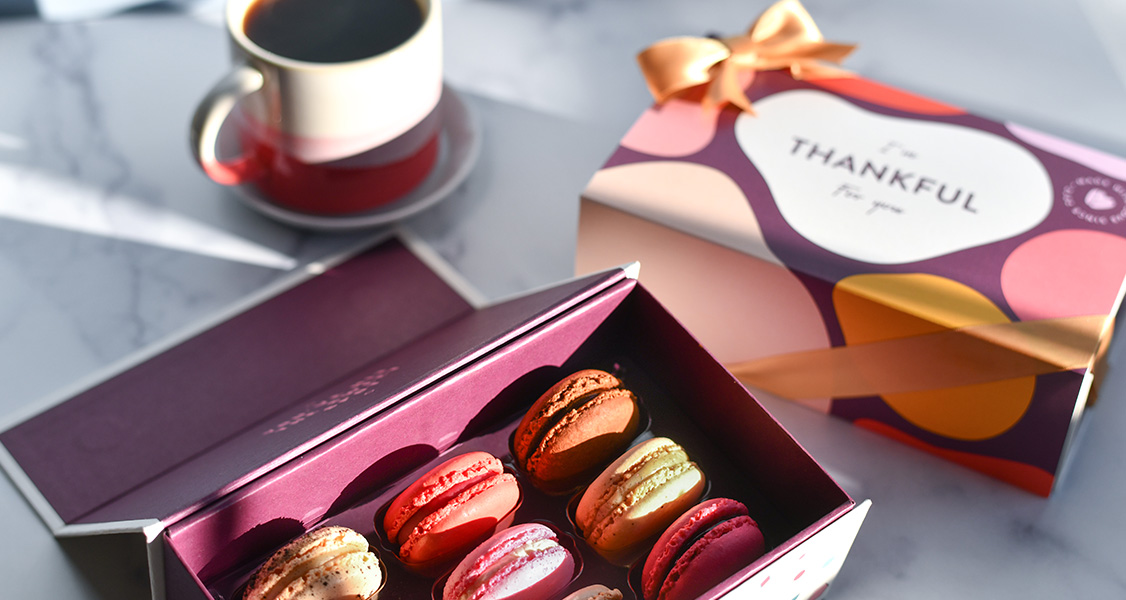 Thanksgiving Is Also for Gifting
Gifting on Thanksgiving may be unusual but that's exactly why you should do it! Think of how your clients & employees will feel with a unique gift that they can share with their families on this special day (hint: awesome!).
We have 3 gorgeous Thanksgiving boxes that are full of the most delicious macaron flavors & colors.
Our

Falling Leaves Box

has Dark Chocolate, Caramel Fleur de Sel, Honey Lavender, Tiramisu, Rose, and Vanilla macaron flavors.

The

Sweet Gratitude Box

has Red Velvet, Caramel Fleur de Sel, Rose, Lemon Meringue, and Vanilla macarons. 

Last but not least, the

Eat the Macs First! Tasting Box

has a delicious mix of all our classic & seasonal macaron flavors.
We also have the stunning I'm So Thankful macaron pyramid that's perfect for all types of reunions, events, and get-togethers.
These gifts truly have something everyone will love! They're perfect to show some appreciation and stay top of mind on one of the most important holidays of the year.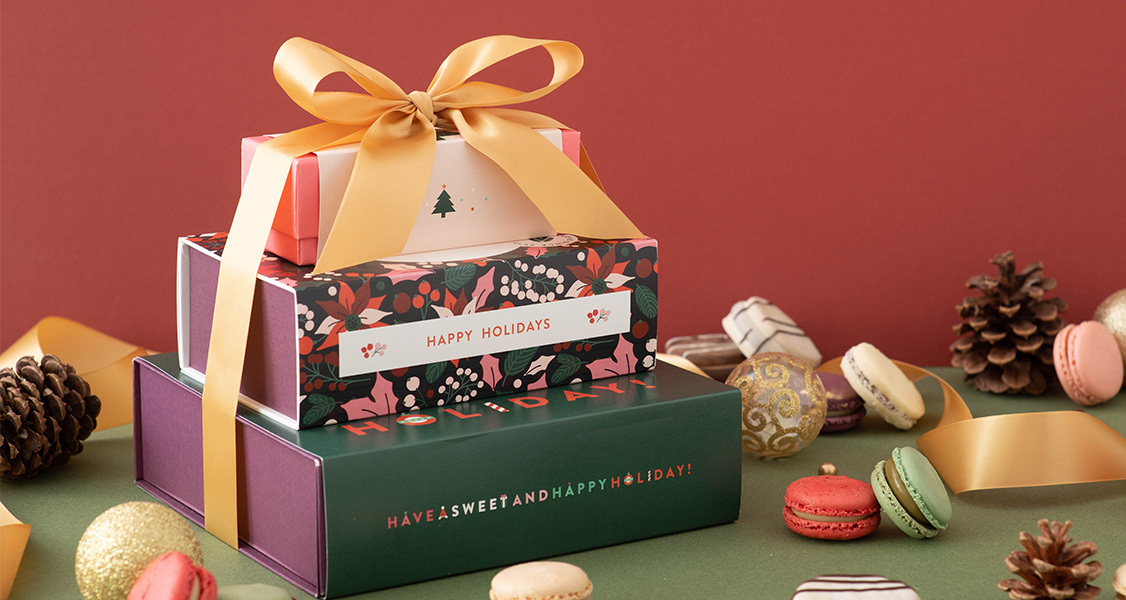 'Tis the Season Gifts, of Course!
Stacks, pyramids, favor boxes, and more! If you want something that will add a luxuriously premium touch to your clients' & employees' holidays, this is it.
From our Merry Christmas and Winter Wonderland boxes to our Jingle Bells Macaron Stack, plus cute little Mac-nificent Holidays Favor Boxes, be sure that with these gifts your company will be the star of the jolly season this year. 
We also have a mouthwatering Jolly Holidays Box that's full of a delicious alfajores assortment. Don't know what they are? Let us introduce you to these spectacular Argentinian sweets made up of two buttery cookies with creamy dulce de leche sandwiched between them.
Your recipients might be used to getting chocolates and bundt cakes during end-of-year, but they won't be expecting something as beautiful as our boxes. Time to reach a new gifting level with some premium holiday macarons.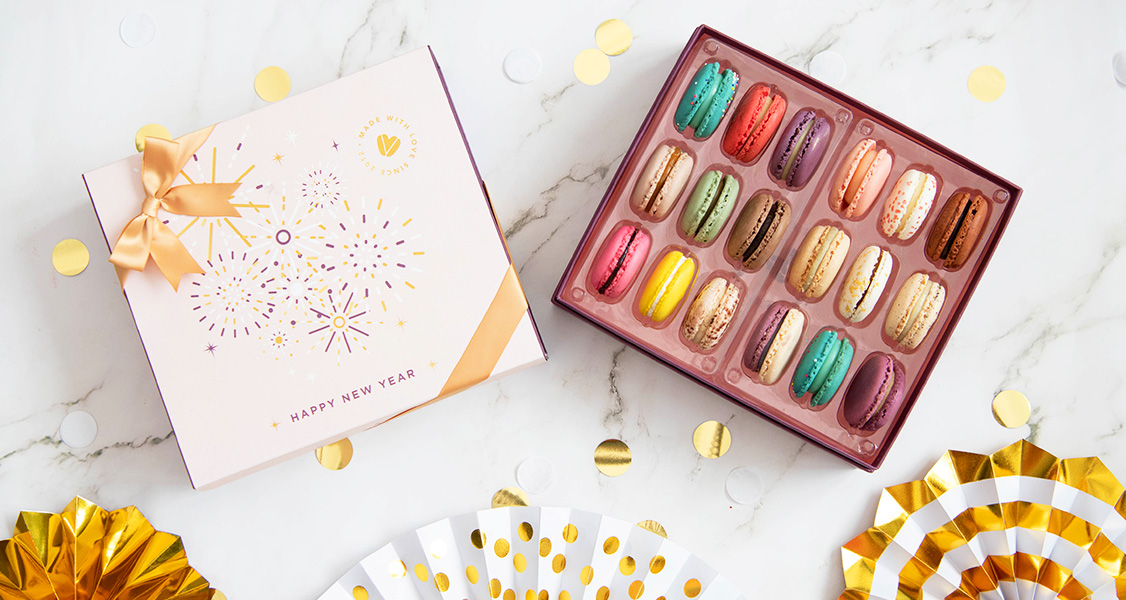 New Year's Gifts Are Always a Yes
They're as good as holiday gifts, but more unique & memorable since they're not that common. This year make your employees & customers think of you while welcoming a prosperous 2023 by your side (of course). We have 3 stunning New Year's boxes and a special stack, come meet them soon! Subscribe to our newsletter to be notified as soon as this collection launches.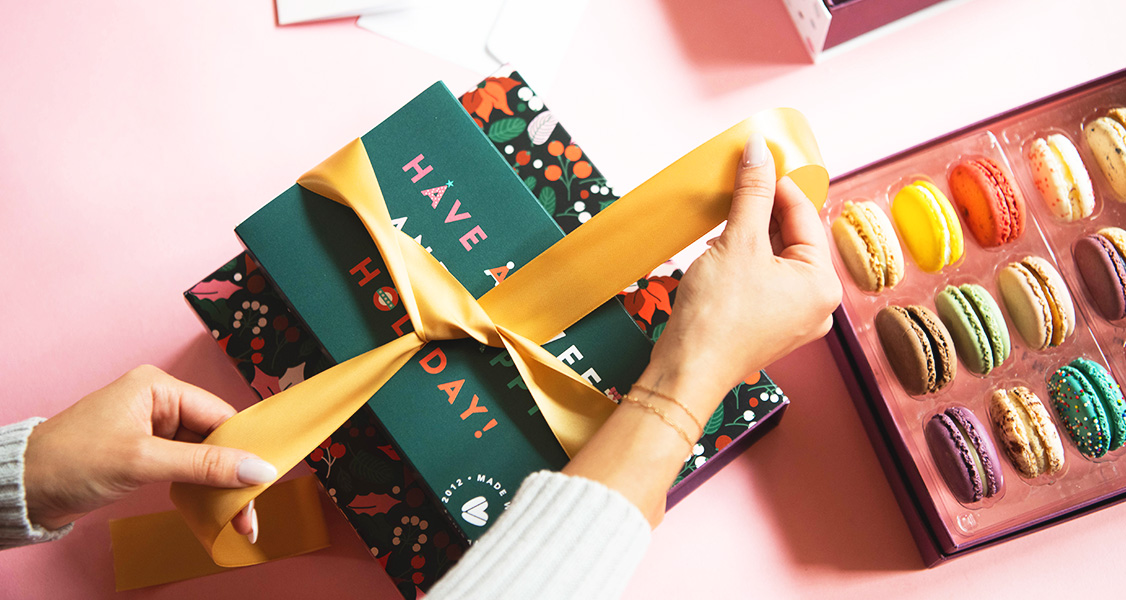 If you're wondering when's the best time to send your gifts, read our When Is the Ideal Time to Send Your Holiday Corporate Gifts? blog! Now mark your calendars, get in touch with us, and ready up to give the most gorgeous holiday gifts your employees & clients will receive this year.