When it comes to corporate gifting, there are a lot of things that you should take into consideration: budget, recipients, context, and more. If you're thinking of giving some gifts to your customers and employees but aren't sure what's the best way to go, read us out.
First, it's very likely that the word "gift card" has already crossed your mind. Yes, we know they're convenient and require much less effort and logistics, but gift cards tend to be impersonal and not that exciting… but that doesn't have to be your case. 
Remember that when you send gifts you want to show your appreciation and gratitude while still getting all the benefits of corporate gifting (gifting macarons & macaron gift boxes work wonders).
You could nail it with some gift cards of course, but you should also take into consideration physical gifts! In this blog, we're going to talk about the pros and cons of each type of gift so you can decide what works best for you and your company.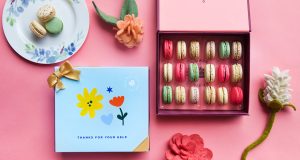 Physical Gifts
The Pros
They can effectively express your gratitude & appreciation:

but only if they're well chosen! No one wants to receive a branded cap or mug, those will get shoved away in a drawer or given to someone else. Corporate gifts are all about making your company stay top of mind, and that can successfully be achieved through premium corporate gifts

(such as stunning & delicious macaron gift boxes!).
Build long-lasting relationships:

Always remember that loyal clients are the main backbone of a successful business, and investing in your relationships with them will have tons of benefits for you & your company.

With thoughtful and top-notch physical gifts you'll be able to build client loyalty, increase average order value, decrease customer churn, create & have brand advocates, and more!

Check out our

6 Ways to Build Long-Lasting Relationships With Customers

blog to get the best tips and ideas.
They're thoughtful:

several studies

have shown that the popular phrase "it's the thought that counts" is actually true.

Recipients will always appreciate the effort you put in to give them a gift, and they will enjoy it even more if you decide to give them something you know they'll like (cue in personalization).

Keep in mind that physical gifts show consideration since they take more time and effort to be planned, made, and delivered to a recipient… and that's appreciated.
Relevant and useful:

physical gifts are more valued by recipients since they're associated with relevancy and usefulness.

Cash and gift cards are useful, of course, but there's no instant gratification.

A physical gift bridges that gap instantaneously—it's real, tangible, and if you choose well, premium & useful…
But only if you give the right gift:

it's easy to just give whatever, but most often than not, these are the gifts that aren't wanted by your recipients and will most likely end up in a closet or even in the trash.

Take some time to find out what your employees & customers like

(the more customized the better) and take even more time finding out

memorable, stunning, and top-notch gifts that will be able to create a positive impact.
Money well spent:

when you give something that's well thought out, practical, memorable, thoughtful, and premium, it'll always be money well spent since it will surely make you stand out from the rest and will give you the desired benefits. Gift cards, on the other hand, very often end up not being redeemed which means you'll end up losing money.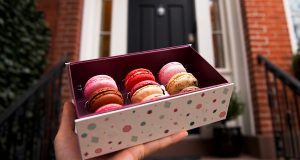 The Cons
They require more logistics:

thankfully there are companies like us

(Woops! French Macarons)

! We offer white-glove service which means that we take care of everything for you, from design to assembly, storage, and shipping, leave it all in our hands.

They're more expensive:

you can give gift cards that are as low as $10, but a good corporate gift will most definitely cost more than this amount.

Check out your budget and make the most of it!

You'll surely find something thoughtful and lovely that everyone will love.

Shipping logistics & expenses:

As we mentioned before,

a corporate gifting company that offers white-glove service is highly recommended since they'll take care of everything shipping-related.

There are shipping expenses of course, but with thorough & ahead-of-time planning you'll be able to save at least some bucks.

You'll need to collect addresses:

this may sometimes be very time-consuming and not everyone is willing to give out their addresses.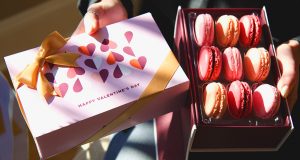 Gift Cards
The Pros
No returns or exchanges:

gift cards allow people to choose their own gift, which means that

they can choose what they like most in their favorite colors, flavors, and sizes.

Gift cards take that guesswork out of the way and let the recipients choose what they like most.

They're always a nice add-on:

if you have a little bit more budget and want to add an extra nice something to your gift, a gift card will work amazingly well.

See it as a bonus gift… and who doesn't love bonuses? 😉
So easy to send:

either online or physical, gift cards are way easier and cheaper to send than an actual gift. 

Available in almost any amount:

usually, gift cards come preloaded with a certain amount of money—it's very common to find them between $5 and $100. If you're interested in sending numerous corporate gift cards, we're sure

you'll be able to talk with your provider and customize the amount according to your wants and needs

.

Instant delivery:

there are several rush seasons throughout the year—the holidays, Valentine's Day, Mother's Day, Employee Appreciation Day, and so on—and getting your gifts delivered in time requires lots of previous planning and logistics.

If you want your gifts to be delivered in time without misdemeanors, virtual gift cards will be your best bet.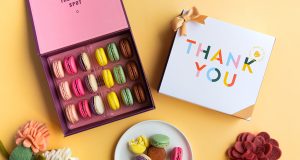 The Cons
They tend to be impersonal:

we're super aware that gift cards are very convenient, but they can also seem very impersonal.

Choosing a gift, writing a personal card, and taking into account the preferences of each recipient requires time, but it adds to the significance of the gift.

On the other side, giving a gift card may seem like you're going the easy way and aren't interested in attaching any sort of feeling to your corporate gift. Remember that even though your recipients are employees and customers, they're still human beings. 😌

They expire:

gift cards have an expiration date and that's something that your recipients should know. If your employees or customers don't know the expiration date of your gift,

you'll end up losing money and who wants that?
There's no experience: Experience counts… a lot. Giving something that your recipients are able to hold in their hands and taste or enjoy makes an entire world of difference. If you've ever wondered if the word "experience" actually makes a difference when gifting, we're here to tell you that it indeed does.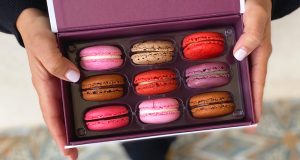 On a side note, we wanted to remind you that
you can also gift macarons through gift cards!
Woops!
E-gift cards can be used
in-store in all our
Woops! locations
and also online at
bywoops.com
.
With these cards, anyone can order online the best French macaron gift boxes and get them shipped anywhere inside the U.S. territory.
Think it through and decide which type of gifting fits you and your company best! Whether you're interested in e-gift cards or in sending some physical macaron gift boxes, we're here to help you out! Simply get in touch with us and let's make the most of your corporate gifts.