As the chilly autumn breeze sets in, it's time to host or attend cozy dinner parties filled with laughter, warmth, and, of course, delectable desserts. After all, fall provides a wonderful backdrop for indulging in sweet treats that capture the essence of the season—who's thinking of cinnamon, pumpkin, and caramel? We sure are!
In this blog, we'll explore creative ways to sweeten up your dinner parties, including a delightful twist with macarons, along with other gluten-free fall desserts.
1. Warm Apple Crisp
Embrace the comforting flavors of fall with a warm apple crisp. Served in individual ramekins, this dessert combines tender, cinnamon-spiced apples with a crispy oat topping. Top it off with a scoop of vanilla ice cream or a dollop of whipped cream for an extra touch of decadence that will undoubtedly delight your guests or hosts. 
Yep, the contrast between the warm, gooey filling and the cool ice cream is sure to please every palate… and leave everyone wanting one more scrumptious piece.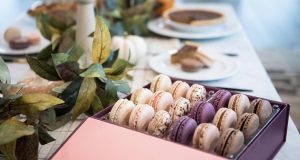 2. Macarons with Fall Flair
Begin your dinner party with a touch of elegance and luxuriousness by offering Woops! French macarons in an array of fall-inspired colors. These gluten-free fall desserts make for a perfect appetizer for everyone who wants something a tad lighter but still mouthwatering. We would display them on a platter or tiered tray with autumnal shades like deep red, orange, and brown or in a spectacular macaron pyramid.
Our macarons' crisp exterior and chewy interior will awaken your guests' taste buds and set the stage for a memorable evening. Our favorites for this season include Caramel Fleur de Sel, Dark Chocolate, Honey Lavender, Nutella, Cookies and Cream, Vanilla, and Pistachio… but there are more you can choose from! 
Find some of these beauties in our Build Your Own Box, Sweet Gratitude Box, and Eat The Macs First! Tasting Box.
3. Pumpkin Pie Delight
Pumpkin pie is a classic fall dessert that never goes out of style. Consider serving mini pumpkin pies or tartlets, making it easier for guests to savor the flavors without committing to a full slice. 
The creamy pumpkin filling, infused with aromatic spices, like cinnamon and nutmeg, will successfully capture the essence of the season and make everyone feel as if they were surrounded by trees full of falling leaves. A dollop of whipped cream adds the perfect finishing touch, of course!
4. Caramel-Apple Slices 
Put a fun twist on the traditional caramel apple by serving caramel-dipped apple slices! Set up a DIY station with a variety of toppings like crushed nuts, cinnamon and nutmeg, mini chocolate chips, sprinkles, and whatever else comes to mind. Guests can create their own customized caramel apples, providing a playful and interactive dessert experience that will be fancied by all.

5. Alfajores: A South American Delicacy 
For a unique addition to your dessert spread, introduce your guests to alfajores! These delectable South American treats consist of two buttery, crumbly cookies sandwiched together with a luscious dulce de leche filling. To enhance the experience, they're gently dusted with powdered sugar, coated in coconut, or dipped in chocolate. Alfajores bring an international touch to your dinner parties and are perfect for those looking for gluten-free fall desserts! 
You can explore the delectable world of these Argentinian sweets at Woops! Macarons & Gifts with our Happy Fall Y'all Box full of 12 authentic alfajores with Classic Dulce de Leche, Dark Chocolate, and White Chocolate flavors.
6. S'mores Indoors 
Bringing the campfire classic indoors can be a delightful surprise for your dinner party guests. Set up a s'mores station with all the essentials: graham crackers, marshmallows, and chocolate. Use a tabletop burner, or even a fondue pot, to create a safe and inviting space for guests to roast marshmallows and assemble their own s'mores. 
You may also play with the ingredients by including different chocolate and topping options to choose from. We'd go for peanut butter, Reese's cups, Milky Ways, Snickers, crushed peanuts and almonds, pretzels, and more!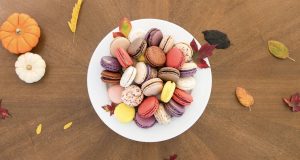 6. Gluten-Free Options for All
As you plan your fall dessert menu, consider the dietary needs of your guests or hosts. Offering a variety of gluten-free fall desserts ensures that everyone can indulge without worry. Macarons, for example, are naturally gluten-free, making them an ideal choice for dessert that suits diverse dietary preferences. Other options include pumpkin creme brulee, rice pudding, soft and chewy caramels, pumpkin fudge, and cashew butter cookies.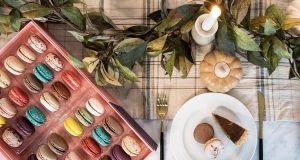 This fall, take your—and your host's!—dinner parties to the next level by infusing them with irresistible desserts that capture the essence of the season. From warm apple crisp to playful s'mores, there are numerous ways to satisfy everyone's sweet cravings. Don't forget to include macarons in your dessert lineup; their elegant appearance and gluten-free nature make them a standout choice for any fall gathering.
Embrace the flavors of fall, get creative with your dessert choices, and prepare for a season filled with sweet moments and lasting memories!