Even though April may seem like a slow month where there's not much to celebrate, we're here to tell you that that's not the case. April's full of cool puns and fun dates that you can use to your advantage—sending gifts, or even a cool email, on not-so-celebrated holidays will make you stand out much more than just sending something in November or December!
We'll brainstorm some cool corporate gift ideas for this month so you can pick the perfect ones that will help you and your company strengthen relationships with clients and employees. 
From Easter gifts for adults and cool gifting ideas for National Beer Day, Piñata Day, and Earth Day, let us help you make the most of these occasions to stand out, boost sales amongst your clients, and motivate your team.
National Beer Day, April 7
Few things equal the satisfactory sensations that a very large pint of beer gives after a long week of work… insert a beer lover in the equation and you'll hit right on the spot. 
Mark the calendar for all those clients and employees who truly enjoy a good beer because National Beer Day is the perfect excuse to make yourself present in their lives. If you want to start the conversation with some prospective clients, use this occasion as an excuse to have a virtual encounter by inviting them to a virtual beer tasting!
Tip: before you decide to embark on the National Beer Day boat, we recommend you take some time to find out if those special clients and employees truly enjoy beer. It's never a good idea to waste gifting budget on something people won't appreciate. 
Some of our favorite virtual beer-tasting experiences are:
Denver Microbrew Tour
Other Half Brewing
BareBottle Brew Co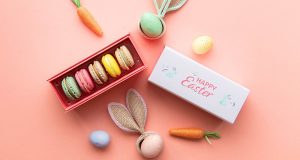 Easter, April 9
Being eggs-tra with VIP clients and incredible employees is always ok! Easter is all about fun, colors, and spring and this holiday usually includes family time and Easter Sunday showtimes, so why not be a part of that through your gift?
Wish your best customers and your team an incredible weekend full of egg (or macaron) hunting, great times surrounded by loved ones, and delicious somethings that can be shared!
Show everyone you're thinking of them on this special day with some spectacular, premium, and thoughtful macaron boxes from our Easter Collection. Full of colors and luxurious sweets, these boxes are the perfect corporate gift idea if you want to stand out and make your good wishes known.
Piñata Day, April 18
Give the gift of fun on this holiday! Piñatas are known for their colors, funny figures, and the joy they're always surrounded with. 
Break into your clients' and employees' hearts and minds by catching them off guard with your gifting efforts and expertise. After all, not everyone takes the time or puts in the effort to make their team and customer happiness on a holiday as this one, but you do!
You can delight everyone with tiny piñatas filled with Mexican candies. You can also give them Woops! French macaron boxes with Piñata Day custom sleeves, colors, and joy will 100% be a part of this corporate gift idea. 
Tip: Our gifting and customization services are easy, fast, and even fun! But, if you don't feel ready yet for Piñata Day, consider this idea for Cinco de Mayo. 
Wondering where you can get tiny piñatas?
Piñatagrams

Spirited Gifts

Nipyata!
Earth Day, April 22
Taking care of the planet is something you want to incorporate into your company's values and principles. Earth Day is a special day dedicated to the preservation of our planet which means that when choosing a corporate gift, you should opt for something useful, hopefully, made with sustainable materials, that won't end up in a drawer, or worst, the trashcan. 
Some of our favorite Earth Day corporate gift ideas include
Water bottles (our Woops! Water bottle keeps liquids cold and hot for almost 24 hours!)

Straws (

find yours at bywoops.com) 

Tote bags

—because who doesn't love to look cool while grocery shopping? Zazzle has some great customizable options.

A very nice, recycled paper notebook
Sprout

pencils to incentivize people into having their own tiny, little garden. Sprout World has some great customizable options as well.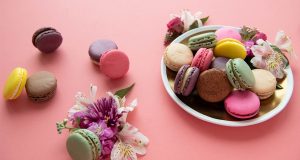 Remember that strategic corporate gifting is a great way to strengthen and maintain both new and old relationships with your customers, partners, and clients. 
Make the most of April's holidays to include some fresh and new dates into your gifting calendar—not everyone thinks of giving something on these festivities which means that you'll surely stand out.
Remember that you can contact us to let us help you give your recipients the most delicious and gorgeous macaron boxes that can also be customized! If you want to meet any of our gifting experts face to face, check out if you have a WOOPS! location nearby, we'll always be waiting for you.