The holiday season has arrived, and with it comes the joy of giving. It's the time to show appreciation, love, and gratitude to the special people in your life. This year, we're excited to present our 2023 Holiday Gift Guide. We've carefully curated a delightful collection of holiday gift boxes, perfect for your loved ones, neighbors, your kids' teachers, work besties, and everyone else on your list.
In this blog, we'll take you on a tour of the sweet and memorable treats we've included in our holiday gift guide. Get ready to discover the perfect gifts to make your jolly season even more special!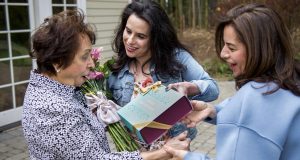 Gifts for Loved Ones
The heart of the holidays is celebrating with your loved ones. Whether it's a special family member or close friend, Woops! has the ideal gift to make them feel cherished. Check out our Winter Wonderland box full of Vanilla, Birthday Cake, Dulce de Leche, Tiramisu, Cookies and Cream, and Caramel Fleur de Sel macarons that everyone would love.
A subscription to a streaming service, book club, or even a wine-of-the-month club can provide your loved one with months of entertainment and enjoyment as well. We'd choose this gift for the younger ones as they probably don't have a credit card to use for these types of subscriptions.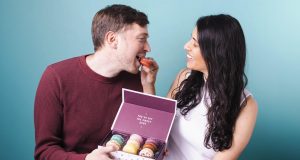 For Your Better Half
The Woops! 2023 Holiday Gift Guide offers a selection of gifts that truly capture the essence of your connection. Surprise them with beautifully crafted macaron holiday gift boxes, filled with a mix of mouthwatering flavors that symbolize the diversity and richness of your relationship. 
Whether it's the sweetness of classic Vanilla or the exotic allure of Strawberry Lemonade and Mango, all our macaron flavors are designed to evoke the same feelings of delight and wonder that your love does. If your better half is a chocolate lover, our spectacular It's Chilly Outside box or Jolly Holidays Alfajores will offer a symphony of rich, velvety bites.
Another great idea is to book a spa day for you both! The gift of relaxation with a spa day or a couples' massage is a perfect way to unwind and spend quality time together.
Personalized jewelry, such as a necklace with an engraved name or a special date, adds a touch of elegance and sentimentality to any outfit and makes for a great gift! If your better half is tech-savvy, consider the latest gadgets or accessories like noise-canceling headphones, a smartwatch, or a tablet for streaming their favorite content.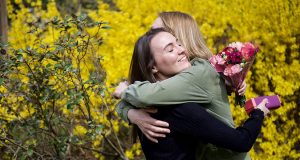 Cool Neighbors
Holiday cheer extends beyond your front door. Surprise your neighbors with a thoughtful gift from Woops! Our holiday gift boxes are perfect for sharing and spreading joy. Choose from our charming boxes, filled with macarons and alfajores.
Other great gift options include cool home essentials! A high-quality coffee or tea gift set with unique blends or artisanal options is perfect for the neighbor who enjoys a warm cup of comfort. You may also consider gifting a low-maintenance indoor plant like a succulent or snake plant. It adds a touch of greenery to their home and requires minimal care.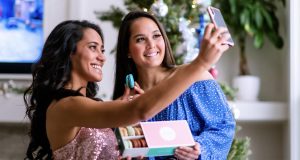 For Your Work Besties 
To us, macarons are always a go-to when it comes to gifting, and it's not the exception when it comes to gifting at the workplace. You can either go big or small with our spectacular gift options that will let your work besties know how much you love them!
Other cool gifts that they'd surely love include scented candles or decorative candles that can create a soothing atmosphere in their office or at home or a soft, warm throw blanket that is perfect for keeping them cozy during chilly office days. You may also go for a selection of healthy snacks or a subscription box for nutritious office snacks… after all, who doesn't love a good old snacking time at the office?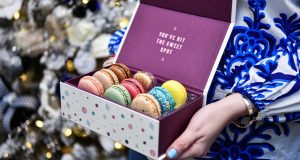 Teachers' Treasures 
Don't forget those dedicated educators who make a difference in your children's lives. Show your kids' teachers that you appreciate their hard work and commitment with a special gift. Our Holiday macaron boxes and stacks are deliciously beautiful and will let your kids' teachers know how grateful you are for the dedication and love they give to your child.
Other cool options could be a stylish and functional tote bag or desk organizer that helps them keep their materials and papers well-organized. Who doesn't love a good tumbler or mug? A personalized tumbler or mug with a heartfelt message is perfect for their morning coffee or tea.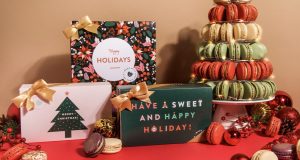 Gifts for Everyone on Your List
The best part of the Woops! 2023 Holiday Gift Guide is its versatility—we've got something for everyone. If you want to stun anyone with something premium and delicious, our gift boxes are designed to accommodate various tastes and preferences. Simply check out our Holiday Collection and choose what fits your taste and budget.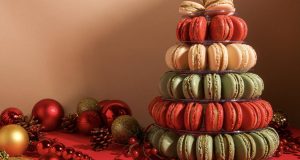 Enjoy our 2023 Holiday Gift Guide, full of a wonderful assortment of holiday gift boxes, stacks, and a gorgeous pyramid that captures the spirit of the season! It's the perfect time to share love, appreciation, and joy with your family, friends, neighbors, teachers, and everyone else on your list.
Don't forget that with Woops! You can start shopping now and select a future delivery date at checkout—just perfect to start crossing off your gift list. Let the festivities begin!