The jolliest season of the year is finally here and it's full of joy, tons of fun activities, plus holiday macarons of course. To make it even better, this year—as we've been doing for several years in a row—we've come up with very merry Holiday & New Year's Collections full of Christmas macaron & alfajores boxes, favor boxes, stacks, and a pyramid.
All our products are carefully designed and thought of so they're the perfect complement to any reunion or get-together, and so they're the sweetest gift option you could give to your loved ones. 
Time to surprise everyone on Hanukkah, Christmas, New Year's, and the whole season with our macarons! Now come and meet our Holiday & New Year's Collections.

The Festive Boxes
Boxes have always been our favorites! We love how varied they are, the sleeves, and how opening them means adding sweetness to any moment. 
Our Holiday Collection features 6 boxes full of delicious Christmas macaron and alfajores assortments, plus a limited edition Hanukkah box.
From the Winter Wonderland beauty to the Jolly Holidays Alfajores Box, and the always popular Sweet Holidays Macaron Tasting Box, get delighted with all the options we have for you.
Our New Year's boxes are real eye-catchers as well. With sleeves full of golden details that hint at the joy and festivity of such a special day, these boxes will stun your closest ones and add the sweetest touch to the last days of the year. Don't miss out on ordering your Bonjour, 2023!, Funky New Year Macaron Tasting Box, and Fireworks & Champagne boxes before they're sold out!
No better way to close a chapter than with something truly yummy and special in hand, right?

Stacks That Fill Our Hearts With Jolly Joy!
If you want to surprise someone with a gift, or have many guests and need numerous macarons, then what you need are New Year's & Christmas macaron stacks!
We have two holiday stacks—the Season's Greetings & Jingle Bells—where you'll find the most delectable combination of macarons plus alfajores. If you're looking for something festive and eye-catchingfor your New Year's celebration, our Mac-nificent New Year Stack will have you wishing you ordered more.

Favor Boxes Are The Best Forget-Me-Nots
Show your love with the cutest little bundles of sweetness, our holiday macaron favor boxes! Skip the usual truffles, sweet almonds, or flowers, French macarons go above and beyond on letting your loved ones know how grateful you are for sharing this special holiday by their side. 
If you want to pamper everyone on your Christmas dinner and give them some tiny tokens of love that they can take home, check out these three options: the Christmas Premium Favor Boxes, the Holiday Premium Favor Boxes, and the Kit of 5 Mac-nificent Holidays Favor Boxes of 2 Christmas French macarons.

Last But Not Least…
Our French macaron pyramids! The perfect centerpiece that will have everyone wide-eyed with its beauty and deliciousness. 
Filled with Vanilla, Red Velvet, and Pistachio French macarons, our Is This From Santa? Pyramid is the true depiction of what a Christmas centerpiece should always look like: fantastic, eye-catching, and very festive.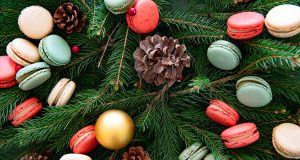 Time to start ordering your favorite Holiday and New Year's products, Woopster! This is the busiest season of the year and we run out fast. Remember that you can secure your goodies now and select a future delivery date at checkout.