Tips for Hosting the Best Lunar New Year Gathering
The Year of the Rabbit is here and we're hopping in excitement and joy for all the happy times (and all the Lunar New Year gifts 😉) that 2023 will bring. The rabbit is known to be the luckiest out of all the twelve animals from the calendar and it symbolizes mercy, elegance, and beauty. 
If you want to commemorate this important festivity—and are looking for different reasons to celebrate the New Year—why not throw a party (with some macarons included) or make a special Year-of-the-Rabbit-themed gathering with friends and family? Lunar New Year starts on January 22 so you still have time to plan and make the most of this important holiday.
Already made up your mind but aren't you so well-versed in Chinese culture? Here are some great tips for hosting an incredible Spring Festival celebration!
Clean Your Home
Do your best to ensure your home is almost spotless before midnight on Lunar New Year's Eve, this will sweep away all the bad luck that you don't need to bring into 2023. Also, don't forget to take out the trash! 
Remember that cleaning of any kind during the first day of the Lunar New Year is forbidden.
Create Your Own Menu
Everyone loves food, so make sure you have a stress-free celebration by choosing what you'll order and cook ahead of time. Some of the most common & lucky Chinese foods are dumplings, spring rolls, longevity noodles, steamed chicken, and veggie stir fry. The foods that are traditionally eaten during this celebration are looked at as symbols to bring prosperity and good fortune into the New Year. 
Tip: the more dumplings you eat during the Lunar New Year, the more money you'll make! So leave plenty of space for those. 😉

Don't Forget About The Sweets
Treat your guests to some delicious goodies that will sweeten up your gathering. Tang yuans (Chinese glutinous rice balls), nian gaos, and sesame seed dessert balls are very traditional and easy to make. 
If you want to go above & beyond and truly stun all your guests, some Lunar New Year French macarons are the way to go! Woops! has a special limited edition collection full of gorgeous macaron boxes, stacks, and treats that will have everyone wide-eyed and dazzled.
Avoid the Excess of Stir-Fried Dishes
We all love our stir-fried dishes and they go very well with a Lunar New Year celebration, but they're most delicious when they're fresh from the stove. If you want to include them in your gathering, choose your favorite ones and—if it's possible—don't let them sit there for more than 30 minutes, otherwise, they might lose their luster.
Yes, we know it's super tempting to create a delicious display of all your fave Chinese takeout foods, but if you do so you'll end up under a ton of pressure trying to prepare multiple dishes that will need some cooking and to be served fresh.
Our advice: choose 3 very, very good ones! Everyone will be satisfied & will love them as well.

Decorate To Invite Good Fortune Into Your Home (And Reunion)
Make your gathering extra festive with some decoration! Keep in mind that the color red symbolizes good luck in Chinese culture, so you'll want to stick with it. A red tablecloth, plates, and chopsticks at each seat will look just fine. If you want to make your table extra gorgeous, include some Lunar New Year macaron boxes. They'll surely be conversation starters and will be loved by everyone. 
You can also put Chinese lanterns, decorative bowls and trays, and festive napkins. And no, you don't have to spend tons of money on decoration to make your reunion one for the books.
Prepare the Red Envelopes
Lunar New Year gifts are always a yes! Wish all your guests a prosperous and lucky year with some red envelopes. In case you didn't know, red envelopes with new bills inside are the most traditional Lunar New Year gift, so do make them a part of your celebration. Also, avoid coins and giving amounts with the number 4 (four in Chinese sounds similar to the word "death").
You can place each envelope on your guest's seats (along with some delicious French macaron boxes) or give them out throughout the night or day. The best host (AKA you!) will also remind its guests that they must receive their envelopes with both hands and to open them in private or when they're at home.
Noise!
Lunar New Year is happy, lively, noisy, and joyful! And so should be your gathering. Scare away the evil spirits with some fireworks and firecrackers to create an extra festive atmosphere. If you can't include these, do pop some balloons! They'll also scare away the bad luck.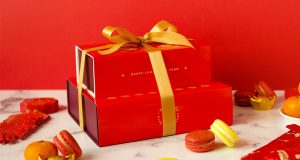 We hope these ideas help you on your Year of the Rabbit gathering, Woopster. If this is going to be your first year being a host, be sure that with these tips you'll leave everyone feeling happy and lucky for the upcoming year. Also, remember to head to your nearest Woops! store to get your spectacular macaron boxes or order them days in advance so they arrive in time!