Father's Day is just around the corner, and it's time to honor and celebrate the special dads in our lives. Finding the best Father's Day gift ideas for 2023 can be a challenge, but fear not! We've curated an incredible gift guide to help you surprise and delight your dad like never before. From unique experiences to thoughtful tokens, we have something for every type of dad. 
And, of course, we can't forget to mention the sweetest surprise of all—our limited-edition collection of Father's Day macaron boxes! Read on to discover the perfect gift that will make Father's Day 2023 (and maybe even Father's Day 2024) truly unforgettable.
For Adventure Seeker Dads
For the dad who loves adrenaline and thrills, consider gifting him an exhilarating experience such as a hot air balloon ride, a helicopter tour, or a skydiving adventure. These unforgettable moments will create memories to last a lifetime and show your dad how much you value his adventurous spirit.
You might be wondering how to find these cool activities near you, but it's as easy as 1, 2, 3. Simply type on Google "hot air balloon ride near me" or "helicopter tour near me" and get surprised!
Are you in NYC? Let us give some of our favorite exhilarating recommendations:
FLYNYON

has multiple helicopter ride options and they always have great offers going on, go check them out.

Get Your Guide has many cool activities that will thrill your dad! From VIP night helicopter rides (our fave to see the city lights) to city climb skyscraping experiences and White Water rafting adventures from NYC, find tons of stuff he will love and more!
For Tech Enthusiast Dads
If your dad is always up to date with the latest gadgets and gizmos, surprise him with cutting-edge tech gifts. From smartwatches and wireless earbuds to virtual reality headsets and smart home devices, there are plenty of tech goodies that will make his eyes light up with excitement.
Here are some of our favorites:
Google Nest Thermostat:

which dad isn't obsessed with saving energy? This smart thermostat makes suggestions on scheduling tweaks to help save energy. It also tracks and alerts on odd patterns in heating and cooling usage.

Philips SmartSleep Wake-up Light

: is he wellness obsessed? Gift him a perfect sleeping routine with this clinical sleep educator! This wake-up light increases levels of light gradually while mimicking a natural sunrise for a peaceful awakening.
JBL Pulse 5: A great JBL but upgraded! If your dad loves to hear music, this groovy JBL—besides having a great sounding system—is packed with LED lights that make it look like a cool lava lamp.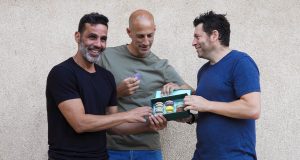 For Foodie Dads
When it comes to the best Father's Day gift ideas, our limited edition collection of Father's Day macaron boxes takes the cake.
Handcrafted with love, these delectable macarons come in an array of flavors that will tantalize his taste buds, warm his heart, and make his belly extra happy. 
From classic favorites like Dark Chocolate and Vanilla to unique combinations like Caramel Fleur de Sel and Honey Lavender, these macarons are the sweet surprise he didn't know he needed. 
Indulge your dad with these delightful confections and let him savor a moment of pure bliss!
Our favorites for this year are the Build Your Own I Love You Daddy Box, My #1 Superhero, Awesome Dads Tasting Box, and For All Fathers Box of 5.
For Sports Fanatic Dads
If your dad is a die-hard sports fan, show your support for his favorite team by gifting him official merchandise or tickets to a game. Whether it's baseball, football, basketball, or soccer, the joy of cheering on his team and sharing the excitement of the game will create cherished memories for both of you.
You may also give him sports goods such as:
A Garmin Watch

A folding chair of his favorite team

Some great trainers
Is he into Formula 1? Get him the Sungod X McLaren Renegades now!
For Bookworm Dads 
If your dad is a lover of literature, dive into the world of books and find a captivating read that matches his interests. Whether it's a gripping thriller, a thought-provoking non-fiction piece, or a heartwarming novel, a well-chosen book can transport him to new realms and ignite his imagination.
Complement his love for reading with these:
Clever Book Hanger for Reading Glasses:

Does your father use glasses and keep on losing them? Help him keep them attached to the book cover thanks to a magnetic hanger. Find one that works with both paperbacks and hardcovers.

A Kindle:

In case he doesn't have one yet, a Kindle will give your book-lover dad an entrance into a gigantic world full of books he didn't even know he

needed

to read!

In Case He Already Has a Kindle: Give him a Kindle Unlimited gift subscription. As many books as he wants for a limited amount of time.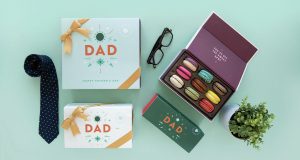 This year go beyond the ordinary and surprise your dad with the best Father's Day gift ideas that truly reflect his passions and interests. 
And remember to make it even sweeter with our limited-edition collection of Father's Day macaron boxes that you can find at your nearest WOOPS! store. These delightful & luxurious treats will add a touch of sweetness to his day and show him just how much he is loved and appreciated. 
Looking ahead to Father's Day 2024, let's continue celebrating our dads and making every moment count. Happy Father's Day to all the fantastic dads out there!