Share with us the joy of turning 10 years old by making one of our most loved sweets at home: our Pistachio macaron! Just so you know, our top-notch recipes have been locked away for 10 years, but turning a year older is making us feel extra cheery. And yes, this deliciously green goodie is the best one in the U.S.
One very important tip from the chef is to NOT cheat on the ingredients—always look for the freshest & most high-quality ones as they will make the sweet magic happen. Believe us when we say that you'll be super proud of yourself after completing this recipe and your family will love you a little bit more after trying these delicious macarons made by you! That's if you decide to share them. 😉
Let's Begin! These Are the Utensils You'll Need
You may think these are a lot, but they're all so easy to get at your nearest grocery store! If you don't have a mixer or some mixing bowls, ask your favorite neighbor or sister and tell them all about the magic that's about to happen in your kitchen… they might even end up gifting them to you.
Small pot

Candy thermometer

Mixer

Mixing bowl

Sifter

Scale

Silicone spatula

Piping bags

Scissors

Baking trays

Baking or parchment paper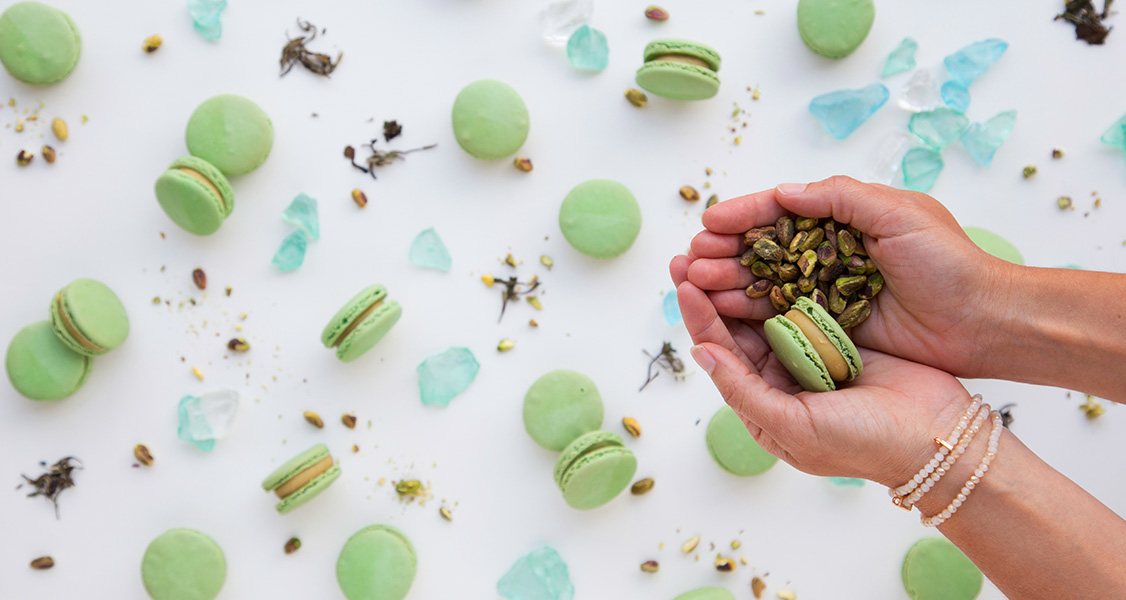 Time to Prepare the Deliciously Crispy Shells
Your Pistachio macaron shells must be super crispy and deliciously brittle. They're delicate, colorful, and the ones in charge of making 50% of your macaron irresistible, so pay close attention to all that you have to get and do to make them Woops'ing perfect.
300g Almond Flour, finely ground

300g Powdered Sugar

220g Egg whites at room temperature

1g Green Food Coloring

300g Granulated Sugar

70g Water
Preparation:
Sift the almond flour & powdered sugar into a large bowl.

Add half of the egg whites and mix well.

Add the food coloring and mix.

Set batter to the side—for now.

Now add the rest of the egg white to the mixer and put it on high speed.
At the same time, you'll:
Combine sugar and water in a pot and boil until it has reached 230ºF.

Once it has reached this temperature, remove it from the heat and slowly add it into your mix in small quantities until meringue is formed.

When you see stiff peaks, that's when you'll know your meringue is ready!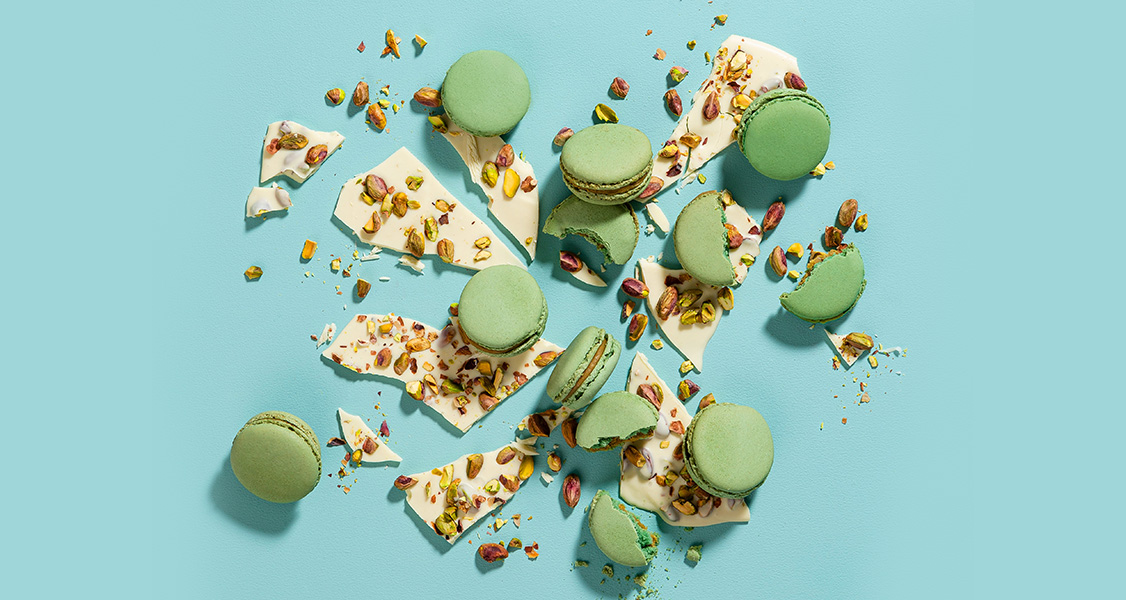 It's Shells Time!
Add ⅓ of your yummy & sweet meringue into the batter and fold it gently. Keep adding meringue until it's all mixed together.

If your batter passes the ribbon stage, it's good to go!

(Don't know what the ribbon stage is? Check out what it is here!)

Put your batter into piping bags & put the desired amount onto the parchment paper. Tap the bottom of the tray to get out all the air bubbles.

Let it dry for 20 mins. approximately.

This step is very important!

Bake in the oven for 12 mins. at 300ºF.

Take your delicious shells out & let them cool for a few minutes before removing them from the tray.

Voilá

! Your spectacular Pistachio macaron shells are ready.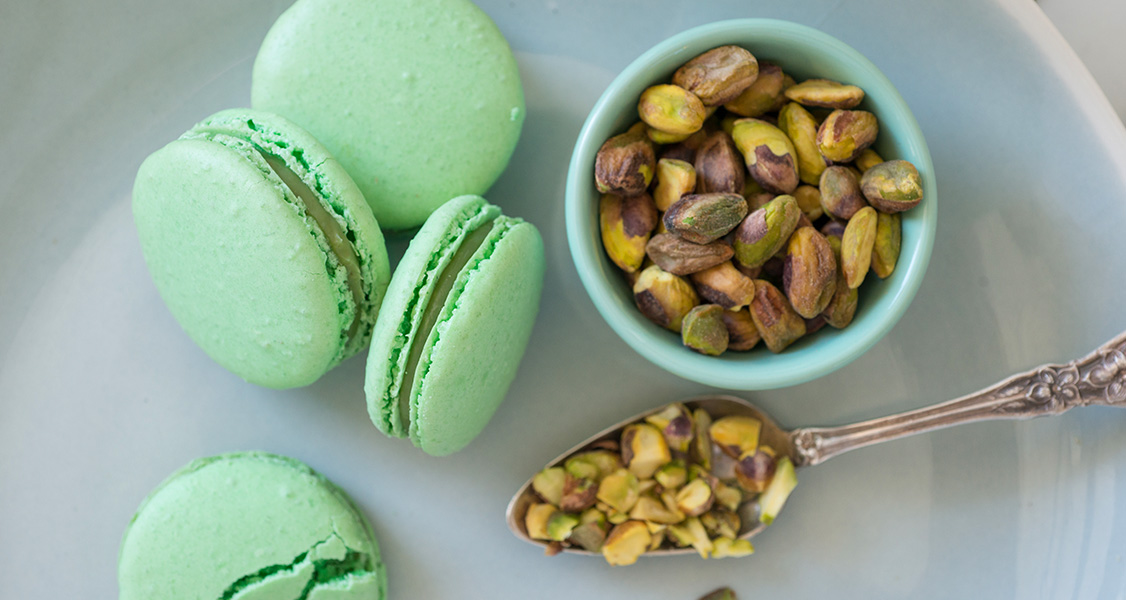 They Say That What's Inside Is What Really Matters… So Let's Make Our Ganache!
Well, they may say that, but in our macarons, every single step and ingredient is of extreme importance. The shells are just as important as the ganache, but there's no denying that a ganache is what gives a French macaron its mouthwatering juiciness. No more time to lose, let's make our mind-blowing Pistachio macaron ganache!
What You'll need:
150g Super Premium White Chocolate

30g Super premium Pistachio Butter

60g Heavy Cream

10g Butter
What You'll Do:
Add the white chocolate, pistachio butter, and butter in a bowl.

In a small pot heat up the heavy cream until boiling point.

Remove it from the heat and pour into it the mixed ingredients (yup, the ones from step 1).

Put everything together and mix until the chocolate has melted. When everything has been combined, mix until you see a smooth consistency.

Pour into a piping bag and place it in the fridge so it cools down.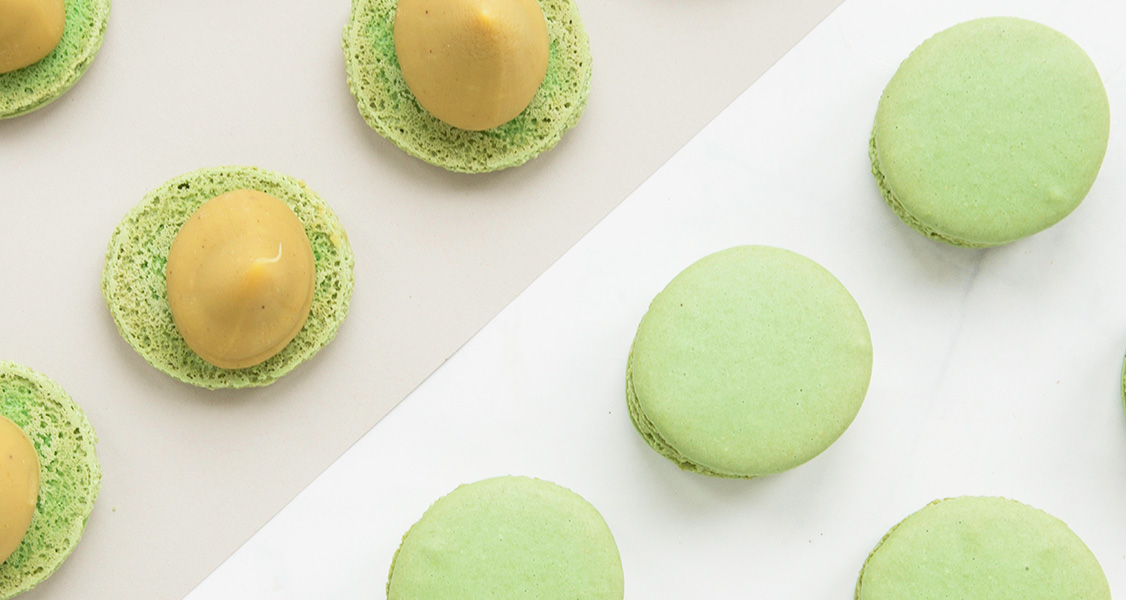 Drumroll Time = Assembly Time!
When you have your shells ready and your yummy ganache cooled, it's time to put both together and have a taste of the most delicious Pistachio macarons you'll ever make! Plus, it's easy and fun to do (awesome plan to make with the kids, btw).
We'll stop with the babbling and get to the goodies:
Match each macaron shell with another one of the same or similar size.

Grab your ganache and dollop a small amount in the center of one of the shells.

Sandwich both shells together until you see that the ganache reaches the borders of your shells.

And you're all done, Woopster!
Tip: for best results place your macarons in the fridge and enjoy the next day.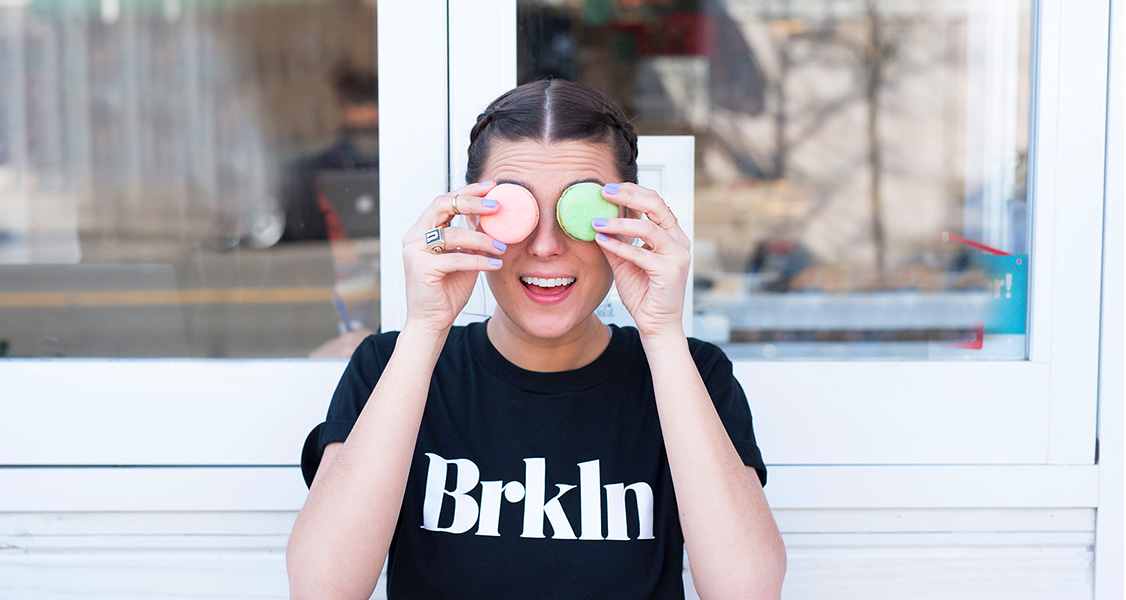 Let Us Know (And See) If You Make Them
We'd love, love, love to see our amazing Woopsters' handmade macarons! If you decide to make this recipe at home, please upload a story or photo and tag us at @bywoops. For us, there's nothing better than being able to share our birthday happiness by giving you something we love so much: our super-secret recipes!
Still, we know that not everyone loves to cook… so if you're not a fan of baking, we can deliver our deliciously crispy & ready-to-eat sweets to you whenever you want! Check out where's your nearest Woops! store and get them with same-day delivery or local pickup or through our online store (we have nationwide shipping!).