Spring has sprung and the world is blooming with color and vibrancy. At Woops!, we're thrilled to bring you our Spring Collections—full of delightful French macarons that are perfect for celebrating every occasion that this warm and beautiful season has to offer.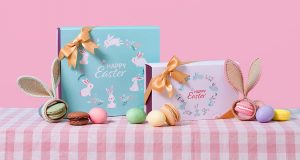 Easter Collection 
Our Easter Collection is a colorful feast for the eyes and taste buds, featuring pastel hues and whimsical designs that will bring the hoppiest joy to your celebrations. 
Our macaron gift and favor boxes include flavor combinations that will add extra bright hues and deliciousness to this year's macaron hunting! Fill the young bunnies' baskets with these sweet treats and you'll be in for the hoppiest ride. 
Our collection features four beautiful boxes: the Build Your Own Hatched Macarons Box of 18, Carrot Resist Tasting Box of 18, Build Your Own Hoppy Easter Box of 9, and Somebunny Loves You.
If you want to delight your loved ones with sweet pick-me-ups, our Eggs-Tra Delicious Box of 3 and Macaron Basket Box of 5 are the way to go!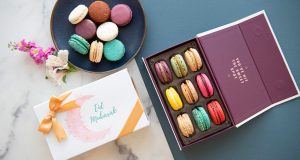 Ramadan & Eid Collection
Our Ramadan & Eid Collection is inspired by the beauty of traditional Arabic patterns and some of the typical flavors that make iftar as remarkable as it is. 
Our boxes feature some Middle Eastern macaron flavors and colors, such as Pistachio, and they're more than perfect for sharing and indulging after a long day of fasting. Yes, they're also the perfect gift for this blessed season!
Our Eid options include the Build Your Own Eid al-Fitr Box and the Eid Mubarak Tasting Box of 18. Apart from these, we also have the New Crescent Moon box that's full of Blueberry Cheesecake, Honey Lavender, Peanut Butter & Jelly, Pistachio, Strawberry Lemonade, and Lemon Meringue French macarons, plus others that we'll let you discover by yourself (has your curiosity been piqued yet?).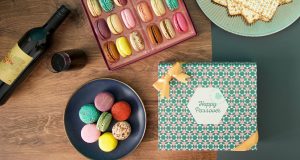 Passover Collection 
Our Passover Collection features macaron boxes that are perfect for celebrating the holiday with family and friends. With colors that match the season, these macarons are a perfect treat to serve at your Seder or to give as a gift. 
Add a touch of elegance to your Passover celebration with these delightful boxes! The cherry on top: they're wheat-free.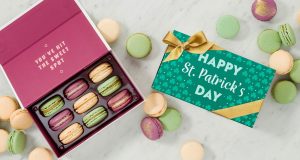 St. Patrick's Collection
Our St. Patrick's Collection features everything you need to celebrate the Irish holiday in style. Our green-colored macaron gift boxes are full of delectable French macarons that will add a touch of whimsy and fun to your festivities. Made with the highest-quality ingredients and crafted to perfection, our St. Patrick's Collection is the perfect gift for anyone who loves to celebrate this lucky occasion.
Some of our favorites from this collection include the Build Your Own Pot of Macarons Box and the Lucky Leprechaun Tasting Box.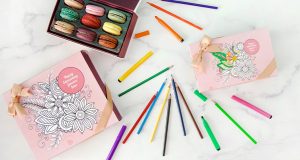 Blossoming Colors Collection
Our Blossoming Colors Collection celebrates the warmth, blooming flowers, and flying bees of the spring season. Each box sleeve features a gorgeous design that can be colored by you or your loved ones. With flavors like Strawberry Lemonade, raspberry, and Lemon Meringue, these French macaron gift boxes are a spectacular way to say goodbye to the cold and welcome some warm, sunny days that can be (finally!) enjoyed fully at the park. 
At Woops!, we believe that every occasion deserves to be celebrated with sweetness, color, and joy. That's why we've created these Spring Collections full of gorgeous French macaron gift boxes perfect for celebrating each occasion in its own special way. You can order all our collections at your nearest Woops! store or online.