Our favorite day is just around the corner: National Macaron Day! We're super excited to celebrate this special occasion with our beloved customers and go all out to make your Mac Day celebrations even sweeter with a spectacular giveaway and surprises that you don't want to miss. Stop asking yourself "where can I get FREE Woops! macarons near me" because, you guessed it, those are on the table at all our locations. 
Wheat-free lovers, come join us! If you're wondering if macarons are gluten-free, the answer is yes. This means that this March 20 you'll be able to eat as much of these sweets as you want.
Read on to find out where this day originated, how are we going to celebrate National Macaron Day at Woops!, and the main reasons why you should enjoy this day with our macarons in hand.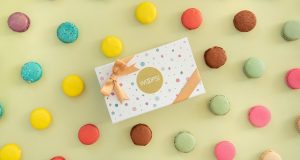 National Macaron Day AKA Jour du Macaron 
This delicious day originated in France in the late 20th century. It was created by French pastry chef Pierre Hermé as a way to celebrate macarons and to support a good cause. The event takes place on March 20th, the first day of spring, and is now celebrated in many cities around the world, including New York, Los Angeles, and London.
In Paris, participating patisseries donate a portion of their macaron sales to a local charity. In New York, participating patisseries donate a percentage of their sales to City Harvest, a food rescue organization that helps to feed the hungry in New York City.
Yep, Macaron Day is a perfectly good chance to doubly indulge in delicious macarons while also supporting a good cause.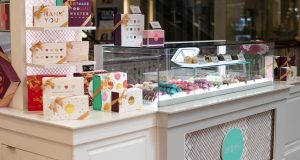 Special Celebrations at Woops! Locations This National Macaron Day
Free macarons, reviews, and giveaways are a part of our celebration. Check this out: throughout Macaron Day, we'll be giving away 100 macarons at ALL our locations!
The good news doesn't stop there. Once you visit our stores, ask for in-store specials that will vary depending on your location—yes, they're all Woops!-delicious certified.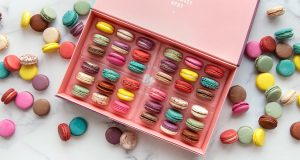 What About The Giveaways? 
We have a giveaway going on right now where you'll get a chance to win a box of 36 French macarons. Entering is super easy: get subscribed to our newsletter and win extra points for following us on Instagram and TikTok (@bywoops is our social media name).
There's more to this National Macaron Day BUT we can't reveal everything until then—trust us, it's worth the wait.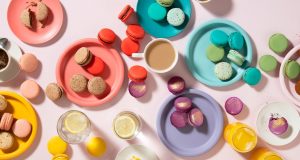 But Wait, There's More!
We understand that only some have a Woops! store nearby, so we're offering a surprise discount for all online orders. Just make sure you're a part of our newsletter to you can find out about our special offer before everyone else.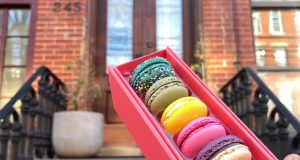 Why Woops! On National Macaron Day?
Because we take pride in creating high-quality, gluten-free sweets that are not only delicious but also visually stunning. All our macarons are made with the finest ingredients to create perfect textures and tastes. Our wide variety of macaron flavors will satisfy everyone's taste buds—from the classic Vanilla to unique flavors like Honey Lavender and Lemon Meringue, you can be sure you'll find the perfect treat for you and your loved ones.
If you're looking for macarons near you, look no further than Woops! We have over 20 Woops! locations throughout the United States that offer same-day delivery and pickup service. You can also order our macarons online and have them shipped directly to your doorstep.
We're thrilled to celebrate National Macaron Day with you and invite you to join us in indulging in our delicious and beautiful treats. Don't forget to visit us at one of our locations for a chance to win free macarons and to get subscribed to our giveaway. If you can't make it to one of our stores, be sure to take advantage of our surprise discount for online orders.