Pride Month is a vibrant celebration of love, diversity, and equality. It's also a time to honor the LGBTQ+ community and show support for their rights and freedoms. In this blog, you'll find different & respectful ways to honor this important and historical month.
At Woops!, we believe in spreading love and joy the best way we know how to: through our delectable treats. This Pride Month 2023, we have something special in store for you! Get ready to indulge and sweeten up your celebrations with our limited-edition Pride Collection while exploring various ways you can celebrate this empowering month.
Attend Pride Parades & Events
Pride parades and events are a cornerstone of Pride Month celebrations. Join the festivities in your local community, march alongside fellow supporters, and show your unwavering support for LGBTQ+ rights. Look for your nearest Pride parade by simply typing in Google "Pride parade near me" and you're done! Get your colorful outfits ready to have a great time.
Here are some tips:
Check schedules

Plan ahead: transportation, parking, and accommodations!

Stay hydrated

Engage & participate

Capture the moment

And don't just leave it all at the parade—volunteer & support LGBTQ+ organizations
You can also bring a Pride macaron box to share the joy with others! It's a sweet way to connect and engage with the vibrant energy of the pride movement.
Support LGBTQ+ Charities
Pride Month is an excellent opportunity to give back to the LGBTQ+ community. Show your support by donating to LGBTQ+ charities and organizations. 
The best way to support is through:
Financial Donations:

You can donate funds directly to LGBTQ+ organizations or participate in fundraising events that benefit these charities.

Volunteer Your Time:

Many LGBTQ+ charities rely on volunteers to carry out their important work. Offer your time and skills by volunteering at events, assisting with administrative tasks, or providing professional services that can benefit the organization.

Corporate Partnerships:

Consider establishing partnerships between your company and LGBTQ+ charities. This could involve sponsorship, joint initiatives, or collaborative campaigns that raise awareness and generate funds for the charity.

Fundraising Events:

Organize or participate in fundraising events dedicated to supporting LGBTQ+ charities.
And there's more! Also, keep in mind to regularly evaluate your support efforts and seek feedback from the LGBTQ+ community to ensure your actions are meaningful and respectful.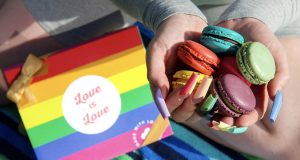 Share Your Pride on Social Media
In today's digital age, social media plays a significant role in raising awareness and spreading messages of love and acceptance. Use relevant hashtags and encourage others to join the movement: #Pride, #LoveIsLove, and #LGBTQ+ between others, helps your content reach a wider audience and connects you with the larger LGBTQ+ community. Together, we can create a ripple effect of positivity and acceptance across the online community.
Other ways to share your Pride on SM:
Amplify LGBTQ+ Voices:

Share content created by LGBTQ+ creators, activists, or organizations. Amplify their voices by tagging them, mentioning them, or sharing their posts, articles, or videos to show your support and promote their work.

Educate and Raise Awareness:

Use your platform to educate others about LGBTQ+ history, rights, and current issues. Share informative articles, resources, or statistics to raise awareness and promote understanding.
Show Solidarity: Post messages of love, support, and inclusivity. Use captions or share quotes that promote equality and celebrate diversity. Encourage your followers to do the same.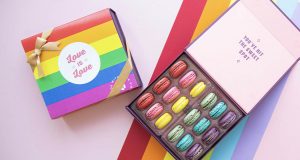 Spread the Sweet Love With Macarons!
One of the best ways to celebrate Pride Month is by embracing colors! Our Pride Month 2023 macaron boxes are a colorful delight, featuring an array of macarons in vibrant hues. Share these delightful macarons with friends, family, or colleagues and spread the message of love and inclusivity. 
If you're looking for safe & welcoming places where you can enjoy Pride, our doors are wide open! Look for your nearest store and let us Woops it up with you.
Our favorites are the Build Your Own LGBTQ+ Box and the Rainbow Box of Macarons.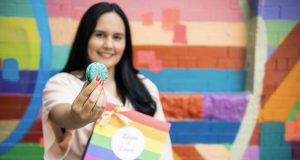 Pride Staff Celebrations
Recognize and honor your Pride staff during Pride Month 2023. Host team-building activities, organize special events, or arrange informative workshops on LGBTQ+ history and culture. These initiatives help foster a welcoming and inclusive workplace environment where everyone feels seen, valued, and celebrated. 
And remember to surprise them with Pride macaron boxes as a token of appreciation!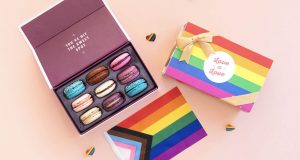 Pride Month 2023 is a time to celebrate love, diversity, and equality. Add a touch of sweetness to your celebrations with delicious Pride macaron boxes while supporting the LGBTQ+ community. Whether you attend parades, host parties, or share your pride on social media, let us be part of your journey in celebrating Pride Month! 
Remember, Pride Month is not just about a single day or a month; it's about fostering a society that celebrates diversity every day. Join us in embracing the spirit of pride and making the world a sweeter and more inclusive place for all. Happy Pride Month!