As the leaves start to change color and the air turns crisp, we get excited to usher in the festive season with our brand-new 2023 collection launches!
Whether you're celebrating with Diwali sweets, Hanukkah treats, Thanksgiving pies and macarons, Christmas candy, or simply looking for exquisite holiday gift baskets, we have something special for you. Join us as we explore all our delightful options for you and prepare to spread joy and sweetness this holiday season.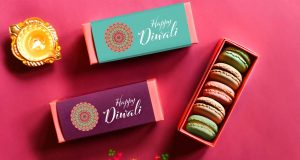 Diwali Collection
The Festival of Lights is a time for joy, celebration, and indulgence in delicious sweets. 
At Woops!, we've curated a delightful Diwali Collection that will add a touch of sweetness to your celebrations! Our spectacular signature macaron boxes feature colorful and joyful sleeves perfect for adding a bright touch of color to your get-togethers—they're a true reflection of this holiday's festive spirit. 
Some of our favorites include our Build Your Own Fireworks Box where you can choose your favorite flavors, the Prosperity Tasting Box full of all our classic and seasonal flavors, and the Rangoli Colors Box full of Caramel Fleur de Sel, Pistachio, and Rose French macarons.
Whether you're gifting them to loved ones or savoring them yourself, these sweets will brighten up everyone's Festival of Lights.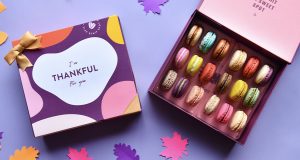 Our Thanksgiving Collection
Thanksgiving is all about gratitude and coming together with loved ones. Our spectacular Thanksgiving collection features delectable macarons in gorgeous boxes that are perfect for expressing appreciation. 
Want an amazing gift idea? Include one of our Turkey Day boxes in a holiday gift basket along with some other gourmet delights, be sure that you'll stun whomever receives this beauty, and your gratitude will be well-known. 
Some of our favorites are the Happy Fall Y'all and Sweet Gratitude boxes and the I'm So Thankful Pyramid.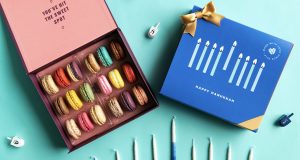 Meet Our Hanukkah Delights
Hanukkah is a time for family gatherings and sharing the joy of tradition. Our Hanukkah Collection is a nod to this special holiday, featuring delectable macaron boxes and pyramids full of some of our most delicious sweets and representative colors.
Gift a box of our Hanukkah macaron boxes to friends and family, or use them as a centerpiece for your Hanukkah celebrations. They are a delicious way to add sweetness to this special festivity!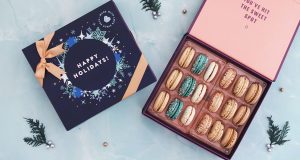 Meet Our Stunning & Festive Holiday Collection!
Christmas is a time of wonder and enchantment, and our Holiday Collection is designed to capture that magic. Our macarons are packed together in beautiful boxes that reflect the season's jolly spirit! Share the joy with our delicious, festive, and gorgeous macarons that make perfect stocking stuffers or delightful additions to your holiday dessert table.
We're obsessing over the Jingle Bells & Macarons Stack, Winter Wonderland Box, and the Is this from Santa? Pyramid.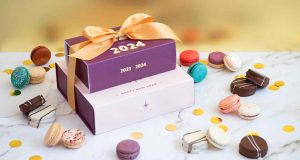 New Year's Extravaganza 
As we bid farewell to the old year and welcome the new, our New Year's Collection promises an extravagant and sweet celebration. Include some of our party-perfect macaron boxes in your end-of-year celebration and get ready to receive gasps of delight from all your guests. These macarons are the perfect way to ring in the New Year with a touch of elegance and indulgence!
 Our favorites are the Mac-nificent New Year Stack and the Funky New Year Tasting Box.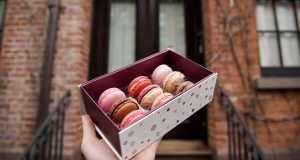 Order Today or Schedule Your Delivery Date at Checkout!
Whether you're celebrating Diwali, Hanukkah, Thanksgiving, or the Christmas holidays, our collections have something for everyone. Make your festivities memorable with Woops! Macarons & Gifts—explore our collections today and order the perfect treats and gifts for your loved ones. Time to savor the sweetness of the season!