Who said Thanksgiving isn't a holiday for gifting? This year break the boundaries and surprise your loved ones with delicious holiday macarons they won't be expecting! Our gorgeous Thanksgiving Collection is full of mouthwateringly beautiful macaron boxes, a stunning alfajores box, and a toweringly eye-catching pyramid.
We carefully planned this collection so that it would be perfect for gifting and for including in your Turkey Day dinner… just imagine all your guests arriving and getting a chance to look at—and have a taste of—a charming macaron pyramid, WOW reactions are guaranteed.
Now let us tour you through our delightful Thanksgiving macaron boxes and pyramid so you can choose your favorites and decide whether to gift them or use them as mac-nificent centerpieces… or both! 😍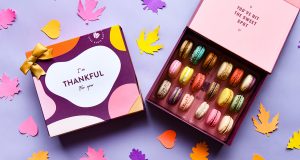 The French Macaron Boxes
Our Thanksgiving macaron boxes are our favorites, of course. Their colors, flavors, and beauty make these lovely boxes stand out against anything! If you want to leave everyone flabbergasted on one of the year's most special days, our beautiful boxes are what you didn't know you needed. 
We have 3 boxes full of the perfect Thanksgiving assortment of flavors, ranging from both classic and seasonal sweets.
The Falling Leaves Box is the true depiction of what fall looks and tastes like. It's full of Dark Chocolate, Caramel Fleur de Sel, Tiramisu, Honey Lavender, Vanilla, and Rose holiday macarons, a yummy mix of flavors that will leave everyone wanting more.
Our Sweet Gratitude Box is—like its name suggests—the perfect way to show some appreciation for making it through another year and being surrounded by loved ones on this special day. This delicious box comes full of Red Velvet, Rose, Lemon Meringue, Strawberry, Vanilla, and Caramel Fleur de Sel Thanksgiving macarons, the perfect mix between aromatic, tart, and sweet flavors.
Last but not least, our favorite box of the three! Our Eat The Macs First! Tasting Box comes full of ALL our classic and seasonal flavors and it's the perfect way to add a mouthwatering touch of color and tastiness to such an outstanding soirée.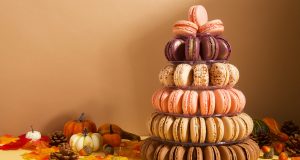 The French Macaron Pyramid
It's gorgeous, stunning, dazzling, and definitely eye-catching! Our spectacular I'm So Thankful Macaron Pyramid is the perfect centerpiece for anyone who's looking to have a truly mac-nificent dessert table.
This beautiful figure comes full of Dark Chocolate, Caramel Fleur de Sel, Tiramisu, Honey Lavender, and Rose holiday macarons, which is just great since we've never seen someone not liking any of these flavors. 😉 Amongst kids and adults alike, be sure that with this figure you'll stay top of mind until next year's Turkey Day!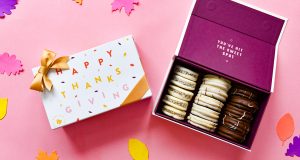 The Alfajores Box
Don't know what alfajores are? No worries, we get this a lot. Just so you know, they're one of the richest South American sweets! Two delicious buttery pastries enclose the creamiest Argentinian dulce de leche to make up the most authentic alfajores you'll ever have.
A tiny bit of background on them (just so you learn to love them as much as we do): the delicious alfajores, despite being known as a typical Argentinian dessert, have their origins in the Middle East and their name is derived from an Arabic word that means "luxury".
Our very delectable Happy Fall Y'all Alfajores Box has 12 of these delicious sweets in their original flavor (creamy dulce de leche sprinkled with coconut flakes), covered in milk chocolate, and covered in white chocolate. 
Craving them already? Wait 'til you try them! And if you already did, what are you waiting for to order yours?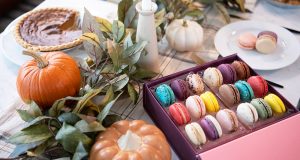 Nothing better than pampering friends and family with the sweetest holiday macarons around! Surprise them with the best French macarons and alfajores on this side of the pond or stun them at your Thanksgiving dinner with a beautiful pyramid or some boxes that will add a gorgeous touch to your night.